How about putting polo shirts in your next custom clothing collection? They're enduringly popular and an excellent choice for printing and embroidery. We've plenty of experience with the process and have come up with a 6 tips for the best branded polo shirts. Just some points to consider before starting out. Thoughts which we hope will help give your project a professional edge and propel it into successful territory.
Polo shirts may have started out as sportswear but they're pretty much everywhere nowadays. In other words, this is a garment that finds favour with young and old alike and it's seen in many walks of life. The polo is a standard piece of a pre-schoolers kit and a cherished item when it comes to workwear. Plus, it retains the original use and is suitable for numerous sports and active leisure pursuits. Beyond that, on-trend designer polo shirts have become a must-have favourite in any self-respecting fashionista's wardrobe.
A quick bit of history before we go any further. The polo shirt first appeared in India in the 19th century. An early version it was used for playing polo by the British military after they adopted the game from locals. Despite these distinctly equestrian origins, the polo shirt was popularised by another sport. The modern polo appeared in the 1920s and is attributed to tennis legend Rene Lacoste. It's reported that he was also responsible for the innovative pique knit.
Enough historical framework, let's get down to creating the best branded polo shirts.
Great Blanks make the Best Branded Polo Shirts.
We've said it before and we'll say it again. The best ink and stitch looks even better on high quality base garments. In this context, great blank polo shirts are the best starting point when you want to end up with the best branded polo shirts. You really need to think long and hard about this aspect of the process.
A good print and embroidery company controls the quality of their service. But you choose the quality of the base garment that they're decorating. And the blank shirts dictate what is possible in terms of decoration. Those garments also, beyond initially looking good, determine what's going to stand the test of time. The latter has a direct effect on your reputation and how your brand is perceived.
One other point to consider is the eco-ethical nature of the products being printed or embroidered. People are increasingly concerned about sustainability and the environmental impact of their choices. In effect, they want to make responsible, ethically acceptable decisions.
The odds are that your brand status will benefit from picking organic and Fairtrade products. And the latter tend to produce better print results into the bargain.
The Method of Decoration.
What technique will be best suited to your brand of polo shirts?.
Screen printing, embroidery or both.
The established approach, one employed by many high street brands, is an embroidered logo on the left breast. However, there's nothing to stop you being more imaginative and choosing different locations for decoration or bolder designs. Artwork printed on the back of the shirt, for example. Perhaps an additional design element printed on the sleeve or hem. How you tackle this aspect depends on your target market. The standard method will be ideal if your branded polos are intended as work uniform. Something more exciting may work better for fashion items. It's worth mentioning that many customers feel embroidery brings a premium feel to the finished article.
Design Considerations.
As touched upon to in the previous section, design is hugely important. Getting it right is an essential ingredient in creating the best branded polo shirts. And it encompasses more than the obvious things such as the brand logo or artwork.
Fabric.
Think about the fabric of the polo. What is most appropriate for your project? A traditional pique knit or cotton jersey are two options. But man-made performance materials may be preferable for sport and certain trades or professions.
Colour.
The colour of the base garment is also a consideration. Basics like black and white will usually hold you in good stead but there are other factors. Workwear needs to be practical and ideally relevant to your company colour palette, whereas branded polos for resale might be more successful if you include a seasonal flavour. The colours used for the actual artwork clearly need to be compatible with those of the base garments. Do you want contrast between embroidery and material or a subtler, more understated same shade effect? Keeping designs simple is always a good rule of thumb. However, special inks or metallic thread can elevate the end result in in some instances.
Cost.
Most folk work to a budget and it's normally a good idea to stick to it (or as close as you can, given the vagaries of life). That's reasonably straightforward with something like workwear. The main costs are decoration, the screen printing and/or embroidery, plus the base garments. The situation gets more complicated when the branded polo shirts are intended for resale. A mark-up needs to be added that ensures you maintain your desired profit margin. On top of that, there may be additional costs involved in actually selling the merchandise. This area requires some serious thought. Creating great branded polo shirts will give you a genuine sense of satisfaction. One that will fast fade away if you don't make a profit.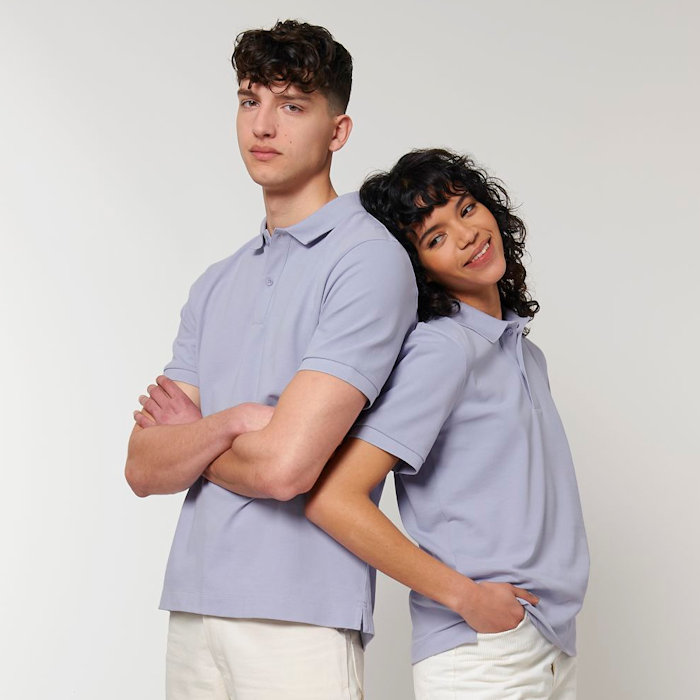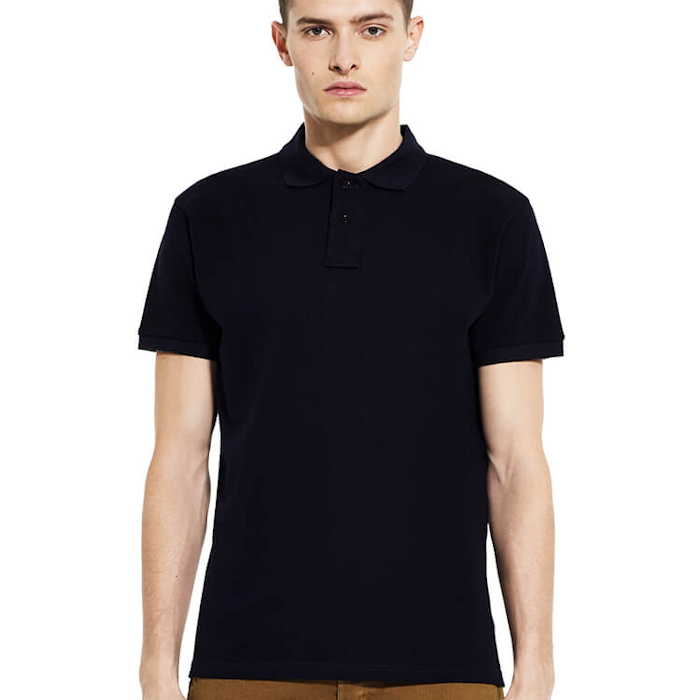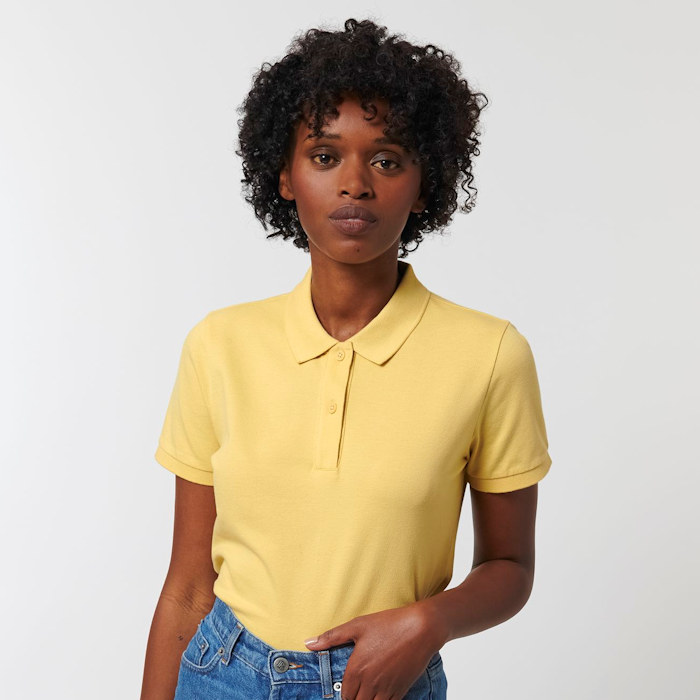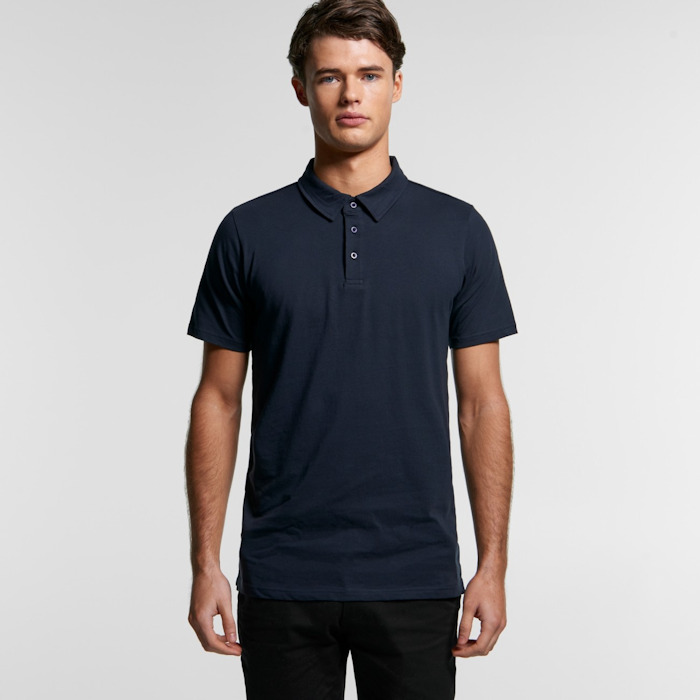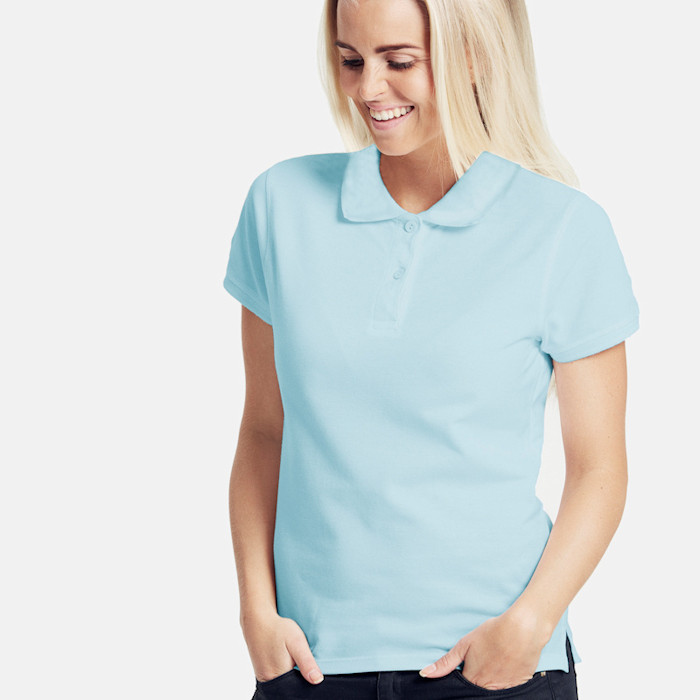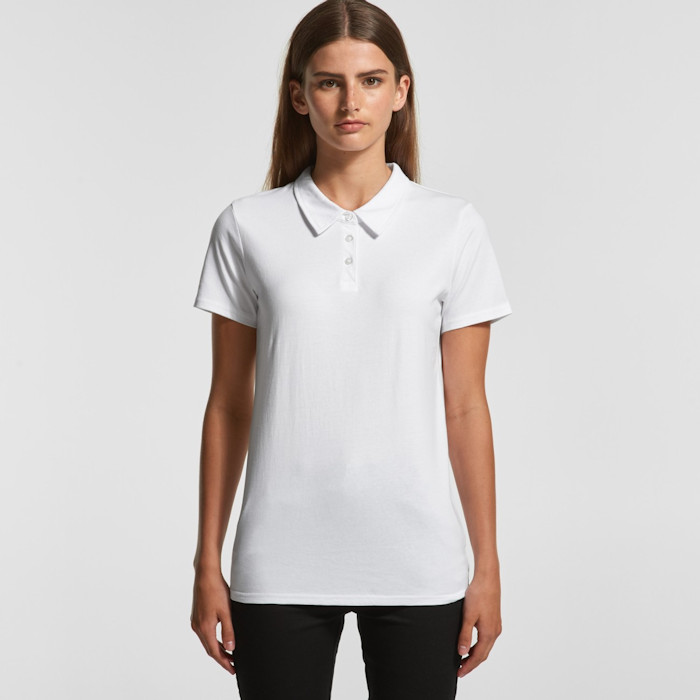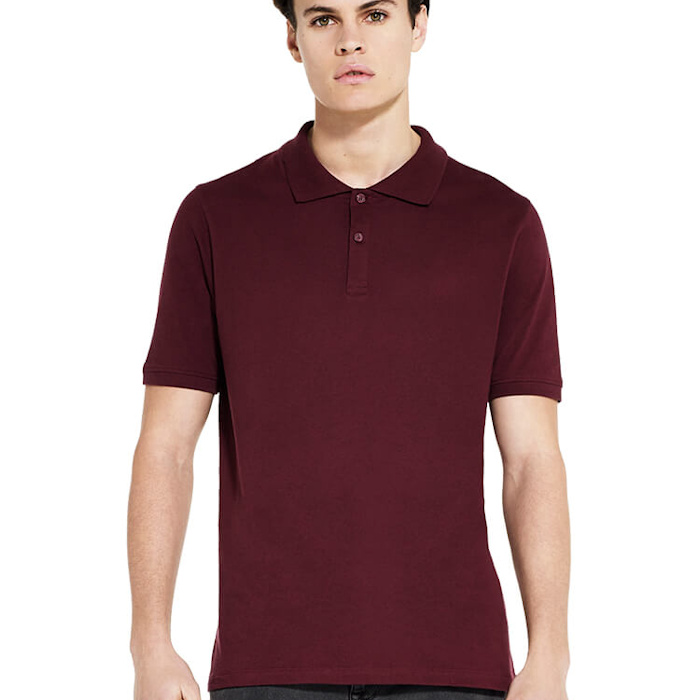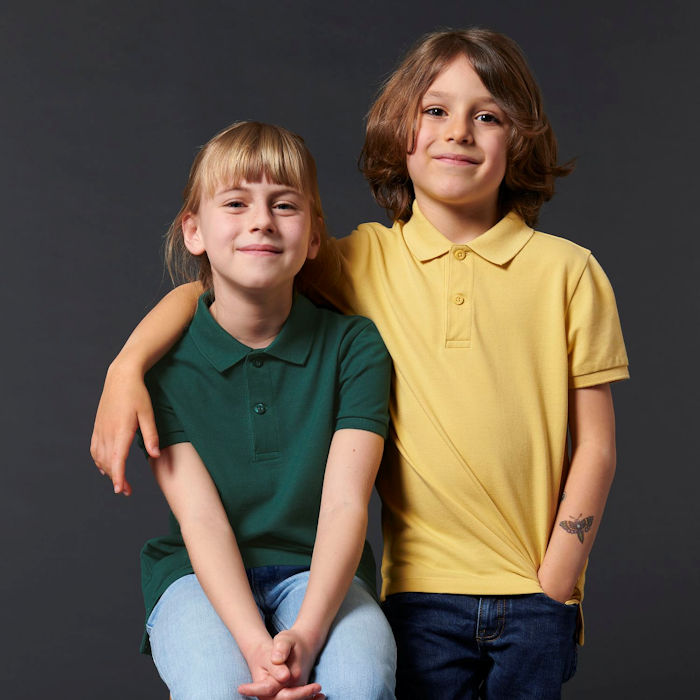 Blank Polo Shirt Examples.
Let's finish off our tips for the best branded polo shirts with a look at some blank apparel. We have access to the best wholesale merchandise and these, whilst only a small selection, are good examples of what's out there.
Stanley Stella Prepster Polo Shirt.
We've shown the core shirt here, but the Stanley Stella Prepster polo is also available in long sleeve, AOP, Space Dye and Vintage versions. It's a high quality garment and one that is going to be popular with customers and printers alike. An upgrade on the Dedicator polo (click HERE to read an in-depth review of that).
Earth Positive Men's Standard Polo Shirt.
A rock solid brand when it comes to sustainability, Earth Positive products offer quality combined with a principled approach. Their EP20 men's standard polo is another organic cotton beauty that ticks all the ethical boxes. Available in basic colours and made from piqué 6.78oz / 230g.
Stella Elliser Polo Shirt.
Stanley Stella are highly regarded and numbered amongst the most sustainable brands in the world. Their Stella Elliser women's polo is a 95% organic cotton and 5% elastane mix and available lots of on-trend colours. Definitely one to consider if ethical credentials are important to your brand.
AS Colour Chad Polo Shirt.
Renowned for quality products that are ethically sourced, AS Colour are another stand-out supplier of blank merchandise. Their Chad men's polo is regular fitting and made from heavy weight, 220g / 6.4oz combed cotton. You know this one is going to look good with some professional customisation.
Neutral Ladies Classic Polo Shirt.
Slightly fitted at the waist for a more flattering look, this Neutral Certified Responsibility Classic women's polo is another sustainable winner. It's crafted from organic Fairtrade cotton and comes in lots of colour options. Neutral also manufacture a men's polo and a long sleeved version.
AS Colour Amy Polo Shirt.
The female counterpart for their men's shirt, the AS Colour women's Amy polo is worthy of consideration for any custom clothing range. AS Colour pride themselves on their responsible sourcing strategy and this 'do the right thing' ethos includes creating blank merch which puts quality high in the mix.
Continental Clothing Slim Polo Shirt.
Born in the street markets of London, fashion is one of Continental Clothing's core strengths. And this N34 slim cut jersey polo shirt will give your next collection a bit of cutting edge on stylish side of the branded equation. Plus, high quality and reliable supply lines make Continental a sound choice.
Stanley Stella Mini Sprinter Polo Shirt.
Polo shirts have become a staple of school uniforms and Stanley Stella Mini Sprinter kids polo has gained plenty of admirers. In fact, it's described by Stanley Stella as their iconic kids' polo shirt and we won't argue. The Mini Sprinter is made from organic combed cotton piqué and available in six lovely shades.
Fifth Column have been printing t-shirts in London since 1977. We offer a comprehensive range of garment customisation Services and we love what we do.
Contact Us for more information or request a Quote online.
Items related to 6 Tips for the Best Branded Polo Shirts.