This is a review of the Stanley Stella Creator t-shirt, written from a customer's perspective. It includes first hand details about overall quality, the feel of the fabric, accuracy of sizing, and how well the tee performs after being given a spin round the washing machine. The pictures are a combination of Stanley Stella studio shots and my own (poor) photographs of actual items.
Where do you start when you're tasked with evaluating an article of clothing? Well, to my mind, you need to get hold of the garment. Run the tape over it. Wear and wash and then wear again. Give it some heat on the ironing board. In short, treat it as you always treat clothes. I like to think that the Stanley Stella Creator t-shirt review was given to me because they know that I'll be straight about the product and give a considered judgment on its good qualities and any negatives that may become evident. So, how good is it? Here we go, my conclusions when I got up close and personal with the Creator.
Choices in the Creator Tee.
Before going too much further, it's worth highlighting the huge choice that you get with the Stanley Stella Creator t-shirt. For reference, the supplier code for the standard unisex tee is STTU755. However, there are also a number of other style and pattern variations on the basic shirt. The Mini Creator for kids (STTK909), the Creator Vintage (STTU831), a Creator Pocket (STTU830), Creator AOP (STTU828), Creator Denim (STTU756) and the Creator Tie and Dye (STTU756).
Any review of the Stanley Stella Creator t-shirt has to mention the selection of colours. This is absolutely vast. For companies that are customising uniform tees or branding them with a logo or design for resale, I should imagine that the toughest call will be deciding which colours to print. The standard t-shirt alone has in the region of 80 shades, solid colours and heathers, and that's without even looking at the style variants like a chest pocket, all over print camouflage, denim and tie and dyes. On top of that, you have a very comprehensive size range which goes from kids to adult 5XL in some colours (we'll come to sizing in a moment). Plus, it's a unisex garment, so you don't get the complication of different men's and women's options.
Conclusion.
My experience was that the colours were very much as shown on the website. I examined several. Plum, camel, India ink grey and a number of different blues. When the tees were in my hands, the colours all appeared exactly as I'd expected. By the way, there are some truly beautiful shades on the Creator t-shirt palette. Mouth-watering tonal variations that you won't find with many other wholesale suppliers. An initial conclusion is that Stanley Stella have really nailed it as far as variety and choice.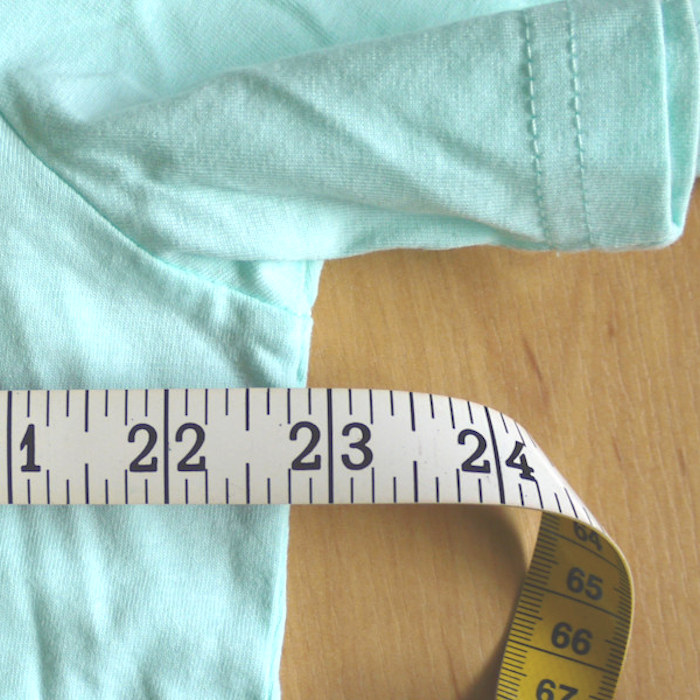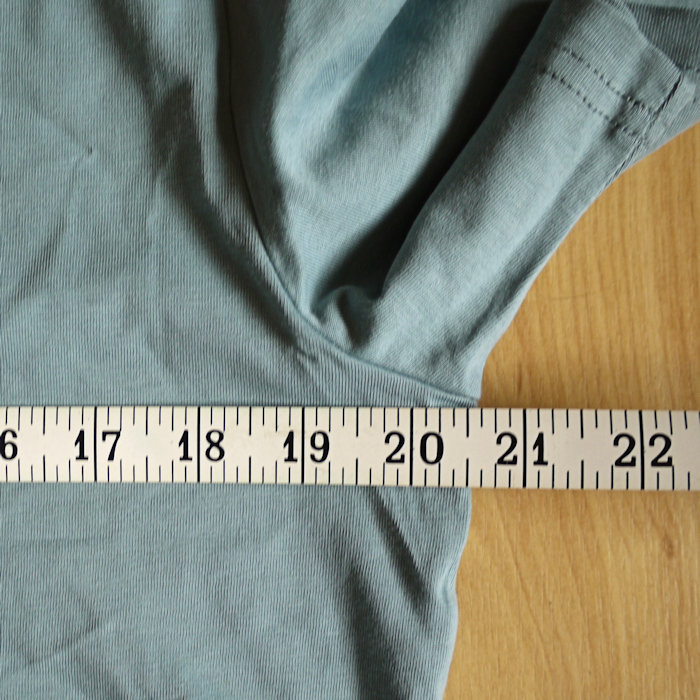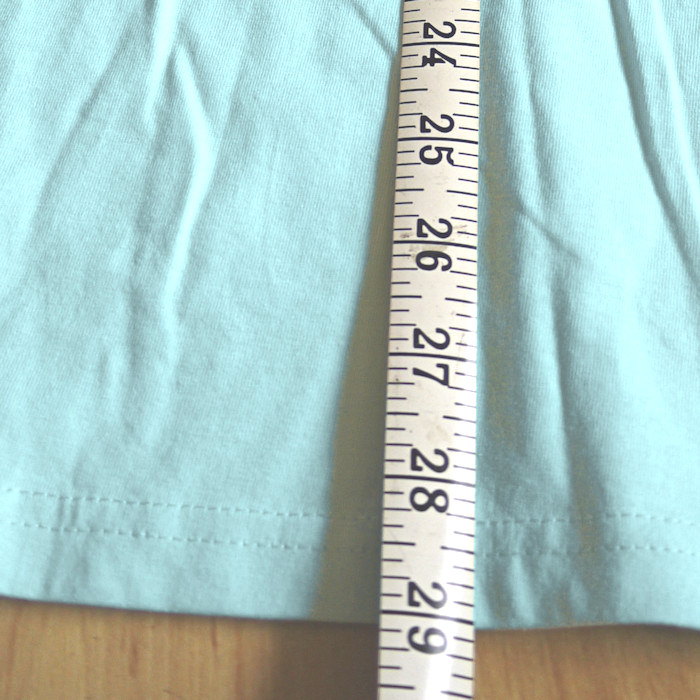 Creator Size, Measurements and Fit.
Let's get down to some nitty-gritty and bring the tape measure into play. As promised, this review of the Stanley Stella Creator t-shirt includes hands-on information about size and fit.
Firstly, the sizes are accurate and as expected. The Creator tee is cut to be a regular fitting and that's a spot-on description of fit. It's most certainly not one of these super-slim jobs which is so tight that you can see what someone recently had for lunch. Neither is it oversized in the way that some (especially retail) manufacturers seem to nowadays misinterpret the term.
I took an XL as a test example. Laid flat, underarm to underarm, the XL measures approximately 23 inches. That equates to a 46 inch chest and is what I understand as a traditional extra large size. The measurement from collar to hem is also a sensible, standard length. Again, it's just about right, in my opinion. The Creator can't be mistaken for a dress and it doesn't end somewhere shy of your belt buckle. Measuring a medium confirms that, in general terms, sizing is on the generous side without being excessive.
Wearing and Washing the Creator.
There is a nice weight to the cotton. 180 GSM (grams per square metre) doesn't feel insubstantial, but it isn't too heavy either. The fit is comfortable, not constrictive across shoulders, chest or belly, without it feeling like you're wearing a tent. That was my take on the XL and so I found a test subject who normally wears medium to check out a smaller size. The model was 6ft tall and very slim on the waist, but with big shoulders. The medium looked perfect and I was informed that is felt good to wear.
A small element on the design front, but I love the collar on the Creator tee. It's unobtrusive and nicely balanced. I have a thing about collars on t-shirts. It seems incredibly hard to get them right. They either feel like they're strangling you or about to slide provocatively off one shoulder. Stanley Stella have managed that rare feat and found a sweet spot that sits nicely in the middle.
Washing and ironing the Creator t-shirt produced excellent results. The instructions clearly stipulate a 30° wash. When it comes to washing custom clothing, I can't emphasise enough how important it is to follow the manufacturer's directions along with any additional guidance from your screen printing company. Doing so can prolong both the life of the garment and integrity of print.
In the Wash.
That said, I decided to throw this t-shirt into a 40° cycle and see what happened. I know, naughty and bad, but my thinking is sound. I was road-testing a blank, undecorated shirt and the idea is to do what we all sometimes do when we're running late and the day seems to have mysteriously lost six hours. And in my defence, the Stanley Stella Creator t-shirt didn't seem to mind. After washing, the cotton was still lovely and soft, and colour still vibrant and true. Trusty tape in hand, I measured for shrinkage which turned out to be minimal. Maybe an eight to a quarter of an inch across the chest and in length. To be honest, if it's an issue, this kind of amount can be reformed with ironing – the weave on any cotton t-shirt will tighten a little when subjected to hot water and the subsequent drying.
Printing, labels and Organic.
Prior to writing my review of the Stanley Stella Creator t-shirt, I had a chat with the Fifth Column printshop guys. This shirt is primarily intended for the printing market and to produce a genuine review you need to get an angle on how it's viewed by the folk who have ink on their gloves. I'm pleased to report more good news. It's an outstanding performer when customised. Creator t-shirts deliver great results with screen printing.
There are a few other things to mention. Labelling, for example. These can be an important aspect in a garments which are designed for the wholesale sector. Labels in the Creator have been well thought out. The neck size label is very discrete. Small, with EU and US size markings, it's easy to ignore. The other labels are located in the side seam – washing info, t-shirt content, manufacturer details and so on. If you don't want them, removal is straightforward. They are designed to simply pull out. I decided to do this individually to avoid any undue pressure on seam stitching, but you couldn't tell they'd been there afterwards.
Ethical Organic.
Which brings us to a subject that I've yet to touch upon. As well as technical info, the labels also denote the organic and ethical nature of this piece of clothing. Stanley Stella Creator t-shirts are made from organic cotton, are vegan approved, meet the Oeko-Tex Standard, and fall under the Fair Wear umbrella. I won't go into depth with this area because it's covered in far more detail elsewhere on the Fifth Column blog. Suffice to say that Creator tees are made in a manner that meets very high environmental and ethical criteria. Whatever your stance on fashion and ecological issues, it's undeniably true that organic cotton feels superior. It's softer and smoother.
How many Stars?
My review of the Stanley Stella Creator t-shirt needs an overall conclusion. Giving star ratings is the usual way of doing things and it won't come as any surprise that this tee gets 5 stars. In fact, it gets a thumbs up on everything. Quality, fit, finishing, choice, value for money and suitability for printing.
It's instantly become one of my wardrobe favourites and definitely one of my go-to t-shirts. It looks good and it feels good. That's a big deal for me, the wearer, but it's also a vital factor if you're choosing blanks to decorate. When you're about to have your logo or artwork printed on hundreds of t-shirts, it's probably best to choose a quality garment to represent your brand. A great design, expertly printed on a quality t-shirt is a winning combination.
Click any of the style names below to visit the corresponding product page:
The Creator Unisex, the Creator AOP, Creator Denim, Creator Tie and Dye, a Creator Vintage, and Mini Creator.
Reviewed by Frankie (freelance reviewer) for Fifth Column.