We're delighted to announce that Anthem clothing has been added to the Fifth Column website. The latest addition to our featured brands, Anthem clothing includes some superb short and long sleeved t-shirts and a standout selection of pullover and zip hoodies. Designed to be decorated, it's apparel that's made with wholesale bulk printing and embroidery in mind and is going to look good with a company logo or custom artwork.
On top of that, Anthem is also a responsibly sourced brand. Here at Fifth Column, we've printed and embroidered millions of garments over the years. But we specialise in ethically sourced blank clothing and Anthem definitely qualify on that front. Their fashion uses certified organic cotton and recycled polyester, is PETA-Approved Vegan, and boasts certifications from Amfori BSCI, WRAP and Sedex. So, read on to get a flavour of Anthem clothing at Fifth Column.
Anthem Clothing – T-Shirts.
Anthem t-shirts come in short and long sleeve versions. Both provide an excellent surface for decoration and are simply begging for some custom ink. Quality details include fine rib neckbands, discrete self-coloured size labels and soft self-fabric tape at the neck and shoulder. Anthem long sleeved t-shirts are cuffed, something that is always a more popular option for customisation.
Solid colours are made from certified organic cotton and the marls organic cotton blended with polyester. All are tag free and are ideal for rebranding. Weight is around the middle of the spectrum at a decent 145gsm. The retail fashion fit strikes a modern stylistic note and the size range spans an impressive XS (30/32 inches) to 6XL (66/68 inches). This comprehensive selection of sizes is complimented by some fabulous colours, especially in the short sleeved tees (long sleeve and marls come in a limited range of colours, but certainly enough to satisfy most requirements).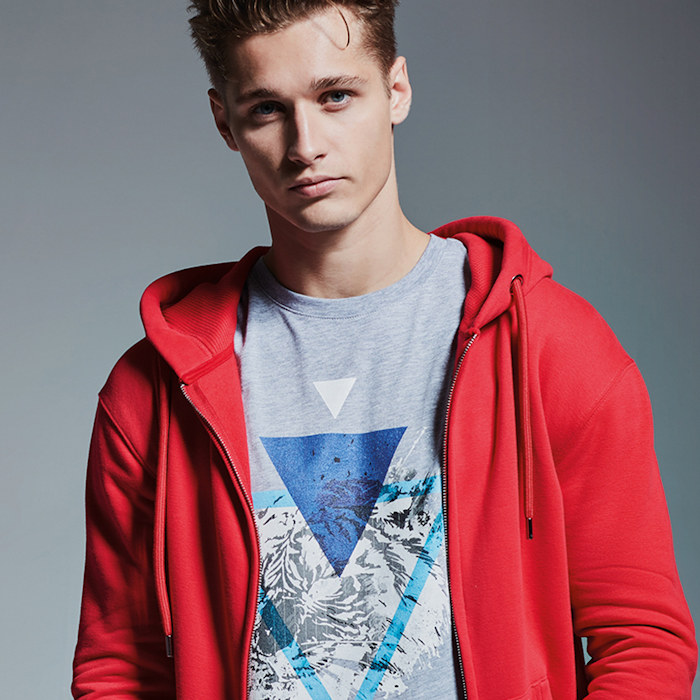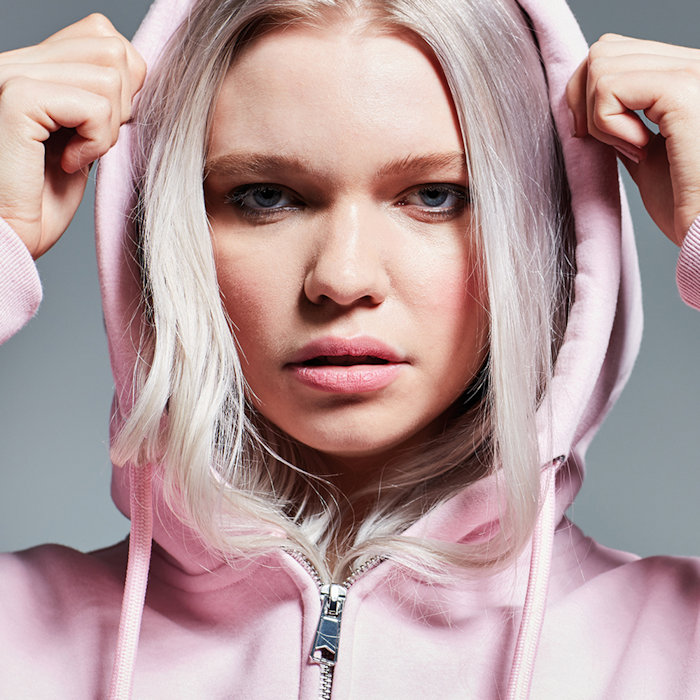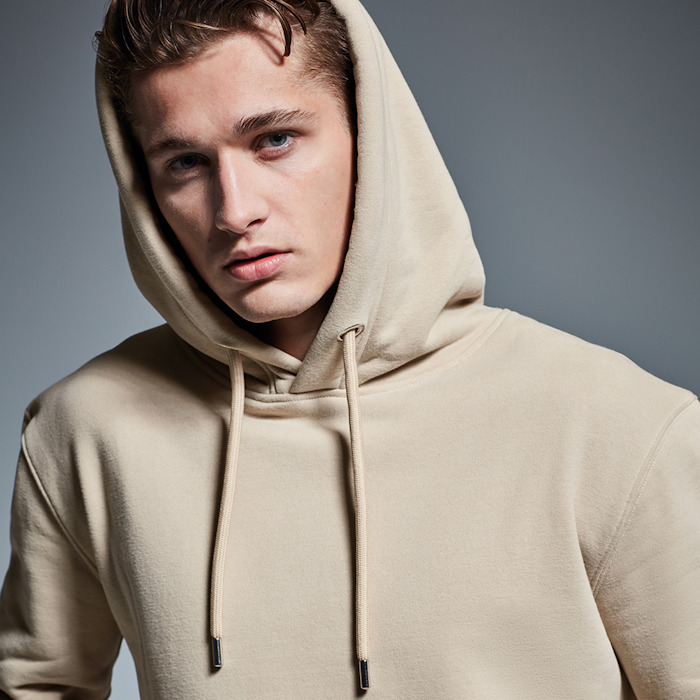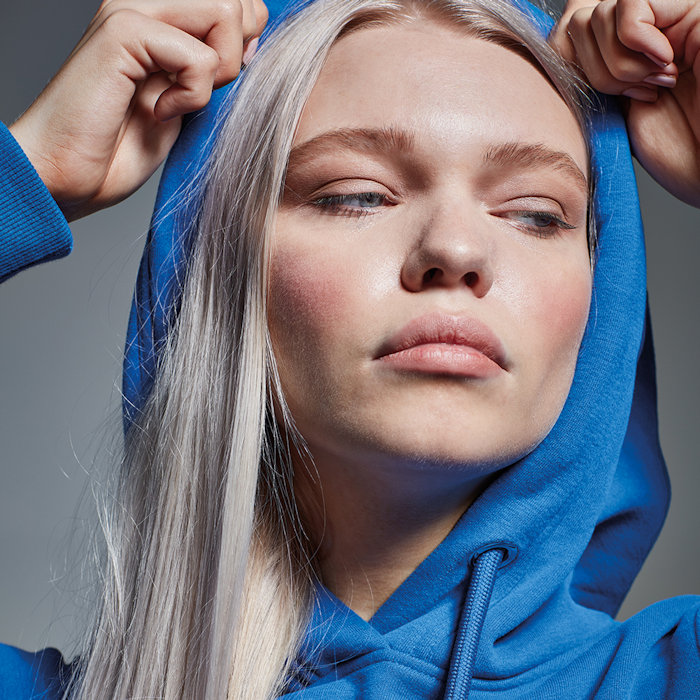 Anthem Clothing – Hoodies.
We love an ethical hoodie here at Fifth Column and Anthem hoodies are a fine example of how quality and an eco-friendly approach can be combined to produce outstanding results. Hooded tops have become a go-to garment for printing and embroidery and you can't beat those that are responsibly sourced. Anthem offer pullover and full zip styles for men and women. Organic cotton, recycled polyester and virtuous viscose are how they describe the materials used in their hoodies and that definitely works for us.
Ethical considerations aside, the super soft feel is the first thing that strikes you about Anthem hoodies. Both inside and out, their hooded sweatshirts are luxurious to the touch. Put this together with contemporary, fashionable styling and you have a garment that's got oodles of attraction. All of which is an excellent starting point for customisation. Premium print or embroidery has even more impact when it's applied to quality apparel.
As with their t-shirts, Anthem hoodies come in a range of sizes that will accommodate the majority of demands. And again, there is a rainbow of shades from which to choose. Vibrant reds and yellows sit alongside earthier desert sand and burgundy. It shouldn't be difficult to find the right match for your brand or make an on-trend choice if fashion appeal is higher on the priority list.
Anthem Certifications.
Anthem apparel enjoys a number of ethical and ecological endorsements and it's worth taking a quick look at what they mean. By the way, read our piece on eco standards and certifications for ethical t-shirt printing for more information on the subject.
Amfori.
Amfori BSCI, trade with purpose, is a code of conduct which aims to improve social performance in global supply chains. It covers a wide variety of issues in an effort to support sustainable trade both locally and globally. These include fair wages and decent working conditions for workers, a ban on child labour and the promotion of gender equality. Transparency and reliability are ensured through a rigorous auditing programme.
PETA.
PETA-Approved Vegan is a mark which recognises that a business is progressive and compassionate in the treatment of animals. PETA actually stands for 'People for the Ethical Treatment of Animals' and it's the largest animal rights organisation in the world. They focus on four main areas where animals suffer, one of which is the clothing industry. In recent years, vegan fashion has moved into the mainstream so it's no surprise to see its influence being felt in the world of custom print and embroidery. When a brand has the PETA-Approved Vegan logo, you know that its clothes are animal-friendly.
WRAP.
WRAP is all about the circular economy. The organisation works hand in hand with governments, companies and communities in an effort to achieve sustainable, resource-efficient trade and manufacturing. This obviously encompasses different economic areas and one of them is clothing and textiles. How clothes are designed and made, and the supply chains involved, are key to making textile production sustainable and reduce the environmental footprint of the textile industry.
Sedex.
Sedex is another organisation which seeks to improve working conditions in global supply chains. It promotes responsible business practices and sustainable sourcing. Membership offers the assurance that workforces are being treated fairly and suppliers are acting in an ethical manner.
Certified Organic Cotton.
Anyone familiar with Fifth Column will know that we often espouse the advantages and benefits of organic cotton. As a fabric, good organic feels softer against the skin and generally delivers superior results when printed. Needless to say, growing organically is also far friendlier to the environment. In short, clothes made from organic cotton are better for people and the planet.
That's about it for this article. Stylish, ideal for decoration, and ethically sourced, it's easy to see why we're pleased to have Anthem clothing at Fifth Column. Click HERE to visit our Anthem clothing category and view further details on the individual products.
Fifth Column have been screen printing t-shirts in the UK for decades – we offer an extensive range of garment customisation Services – and love what we do.