In your experience, does doing business ever get easier or less competitive? No, we agree, it tends to do the opposite. Especially in an area like the hospitality sectors which have seen some tough times in recent years. So, you need to look for every edge you can find. One of those edges is how your company is perceived by its customers. Are you seen as ethical and responsible in the choices you make. For example, how your staff are dressed. This piece, eco-friendly clothing for hospitality, is about some of the options available if you're interested in putting your company logo on responsibly sourced apparel. The items shown are all blank products that are designed to be decorated. It may not be that easy to find, but there is eco-friendly clothing for hospitality out there.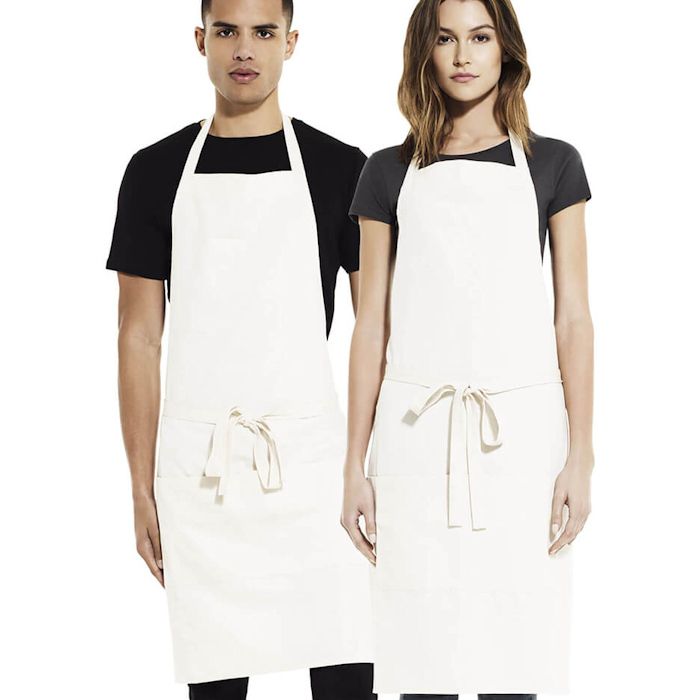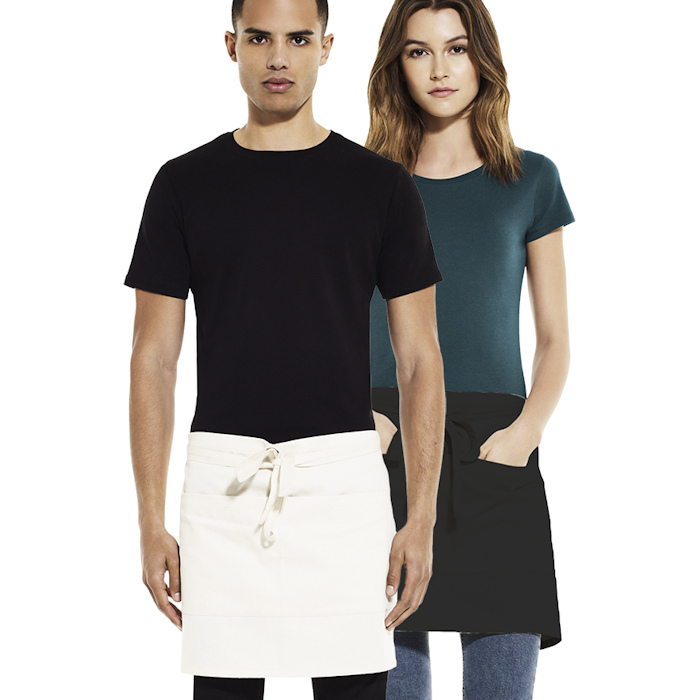 1. Aprons – Eco-Friendly Hospitality Clothing.
Let's start with an obvious one. Yes, we mean the humble apron. They're absolutely everywhere in the hospitality industry. Aprons pop up in all areas, from busy kitchen to equally busy front of house. Adding your brand is an opportunity not to be missed if they're used in your workplace. It's worth noting that there's a very good range of sustainable aprons on the market. In truth, we could base an entire article on organic and recycled aprons. One for the future, perhaps. For now, we've taken examples from four different suppliers of plain clothing for print and embroidery.
Premier.
First up, one from Premier. The latter now offer an excellent selection of sustainable aprons. We've chosen the Premier Cotton Denim Bib Apron (code PR113). This is organic and Fairtrade certified and available in black, brown and indigo denim colours. It has some lovely features such as the mitred pockets and antique brass, gun metal buckle on the neck. Plus, the care labels emphasis the eco-friendly properties of the garment.
Neutral.
Second, an item from Neutral® Certified Responsibility™, a supplier who have impeccable eco-enviro credentials. Add your company name and the Neutral Kitchen Apron (code O92021) will get your brand cooking with sustainable style. This is a twill weave and made from 80% organic Fairtrade cotton and 20% recycled polyester. Again, there are some nice practical touches like an inside chest pocket and two pencil pockets on the side of the apron.
Salvage.
Thirdly, we have an apron from Continental Clothing. Their Salvage Bib Apron with Pockets (code SA77) is a recycled gem. It's crafted from 60% recycled pre-consumer organically grown cotton and 40% recycled post-consumer polyester. Obviously, a unisex style, it's only available in one colour. However, that colour, a natural (undyed) shade has a lovely feel to it.
Earth Positive.
Finally, for aprons, there is a shorter option. As mentioned, there is decent depth of eco-friendly product in aprons and this an example of the variety. The Earth Positive Short Apron (code EP78) is another from the Continental stable. All organic cotton and all good if your business uses this type of garment.
2. Shirts – Eco-Friendly Hospitality Clothing.
Traditional button shirts are ideal for hospitality businesses that want a slightly more formal feel to their uniforms. And there are a number of eco-conscious plain shirts designed to be customised. That said, the current choice isn't vast and the styles tend toward the semi-formal as opposed to the recognised 'dress' shirt concept. However, there are still numerous areas of the hospitality industry where these shirts will deliver an eco-friendly alternative.
Premier.
We've started with the Premier Women's Chambray Shirt (code PR347). Another organic and Fairtrade certified garment, this shirt offers a good blend of aesthetics and practicality. For instance, button down pockets are always a useful feature. Plus, there's a single button on the back of the collar which allows you to attach an apron and keep things nice and tidy. It also comes in a male version (PR247). Both are available in grey and indigo denim shades.
Russell.
Russell are a respected blank brand and their Washed Oxford Shirt (code 920M) is 100% organic cotton. This is one of the closest we could find to a fully formal shirt. It certainly wouldn't be out of place under a jacket or waistcoat in those hospitality settings which require a smarter appearance. Worn on its own, the contrast collar and cuffs add a sporty vibe. It's available in four colours that offer enough versatility for most brand palettes.
Neutral.
Next we have another shirt with potential for either casual or smart environments. And, of course, the Neutral Twill Shirt (code O67001) is also a solid ethical option. It's manufactured from 80% organic Fairtrade cotton and 20% recycled polyester. The styling has a nicely understated feel. One thing to point out, only being available in black, navy or bottle green might not be suitable for all companies.
AS Colour.
AS Colour are a supplier who believe in ethical methods of production and they are part of the Better Cotton Initiative. Their Oxford Shirt (code 5401) is our last example in the shirts section and it's got some good features. For instance, a smart button down collar, chest pocket, and adjustable cuffs. As with most AS Colour plain merchandise, it's pre-shrunk.
3. Polos – Eco-Friendly Hospitality Clothing.
In many ways, the polo shirt is a perfect piece of apparel for staff uniform in hospitality. It strikes that delicate balance between smart and casual which is important to many companies. Appearing to be business-like without falling into the trap of coming over as stuffy or old-fashioned. There's good news if that description fits your requirements. That's to say, there are some excellent eco-friendly polos currently on the market.
Stanley Stella.
Our first is a cracker, a real pace-setter for plain polos. The Stanley Stella Prepster (code STPU331) is a recently unveiled blank garment and it has a host of desirable attributes. As an illustration, there are several style variations which include short and long sleeve, different wash finishes, and plain or all over print. Plus, sizes and colourways are comprehensive. Beyond that, it's organic cotton and retail quality.
Earth Positive.
For number two, we have the Earth Positive Standard Polo (code EP20). This shirt has longevity on its side having been around for quite a while. White, navy and black may not be the biggest range, but there is a lot to be said for being well-established. By the way, this is categorised as a men's style but we think that nowadays there is usually some flexibility with these classifications.
Neutral.
Next, we've shown the ladies Neutral Classic Polo (code O22980). Another high quality polo which has stood the test of time. We've been printing and embroidering this one for a number of years now. It's worth mentioning that it's available in lots of lovely colours – great when you've got something specific in mind with regard to matching your brand. Incidentally, there is also a men's version.
Premier.
It's a similar case with our last polo. The Premier Spun Dyed Sustainable Polo comes in male and female varieties (codes PR631 and PR633 respectively). They are made with spun dyed recycled polyester yarn. Moisture management properties are a noteworthy characteristic if performance is on your list of priorities when it comes to workwear tops. And why wouldn't they be? We all like to stay fresh when working.
4. T Shirts – Eco-Friendly Hospitality Clothing.
There aren't many walks of life where a t shirt doesn't come in useful and that includes hospitality. We've printed millions of tees and the reason is that they have mass appeal. The latter stretches from fashion branding to working gear and includes everything in between. Admittedly, odds are you might not be wearing one if working on the reception of a country house hotel. However, there an awful lot of hospitality jobs where a bespoke printed t shirt could form an essential part of the uniform. And the production of organic and recycled tees is beginning to take hold with more and more suppliers.
Stanley Stella.
We start with a tee that has become iconic in the screen printing industry. The Stanley Stella Creator T Shirt (code STTU755) shares many of the attributes of the previously mentioned Prepster polo. In other words, an excellent variety of style variations and a truly astonishing range of colourways. It's definitely one to consider if tees are in your plan.
Premier.
How about a tee that already has a proven track record with service staff? This Premier Comis t shirt comes in male and female options (codes PR219 PR319 respectively) and somehow feels perfectly suited to hospitality. That suitability might be down to the single button on the placket. Or maybe it's the fit. Hard to say, but it certainly fits the eco-friendly remit being constructed from combination of recycled polyester and sustainably sourced cotton.
Ecologie.
Next, we have another that isn't unisex but split into men and women. The Ecologie Cascades t shirt (codes EA001 EA01F) is organic cotton and made for print and embroidery. It features a soft feel and comes in a selection of strong colours. Although the base shirts are the same, things like fabric and production, the ladies tee has feminine cut.
B&C Collection.
Let's round off t shirts for hospitality with one more that's available in different fittings for men and women. The B&C Collection Inspire tee (codes TM042 and TW043) is described as being ultra-printable. As garment printers, that's the kind of description we always like to see. Equally important, it's got lots of attractive characteristics from the customer perspective. We're talking high quality and on-trend styling, fashion and eco conscious boxes both getting big ticks.
5. Trousers – Eco-Friendly Hospitality Clothing.
Whilst it's fair to say that there are quite a few examples of eco-friendly legwear, most tend to be jogging pants or activity-related styles. We've included one of those because there are instances in hospitality where such apparel has a place. It's harder to find more standard trousers that are created for customisation and responsibly accredited. But, thin on the ground doesn't mean they don't exist.
Brook Taverner.
Need something with a fully formal vibe? Well, Brook Taverner have a solution. Their men's Phoenix trousers (code 8755ACD) are made using recycled polyester and have that tailored fit which says professional in no uncertain terms. It's the same story with their women's Bianca trousers (code 2277ACD). Both are available in super smart black, charcoal pin dot and navy pin dot. We haven't pictured them here, but there are also matching jackets, the men's Phoenix and ladies Cordelia, if you want to complete the suit.
AS Colour.
Of course, lots of hospitality environments will happily accommodate something a little more casual. AS Colour offer two garments which fit that bill. As an illustration, we've chosen their Regular Pants (code 5914). These are a heavyweight, relaxed fit and suitable for screen printing, DTG printing and embroidery. They also produce a standard chino trouser which is somewhat slimmer fitting.
Anthem.
As mentioned above, sweat pants are probably the most commonly available trouser when it comes to organic-ethical choices. Several suppliers make them. We've shown Anthem joggers (code AM030) which are made from 80% organic cotton and 20% recycled polyester. They're super soft, stylish and comfortable.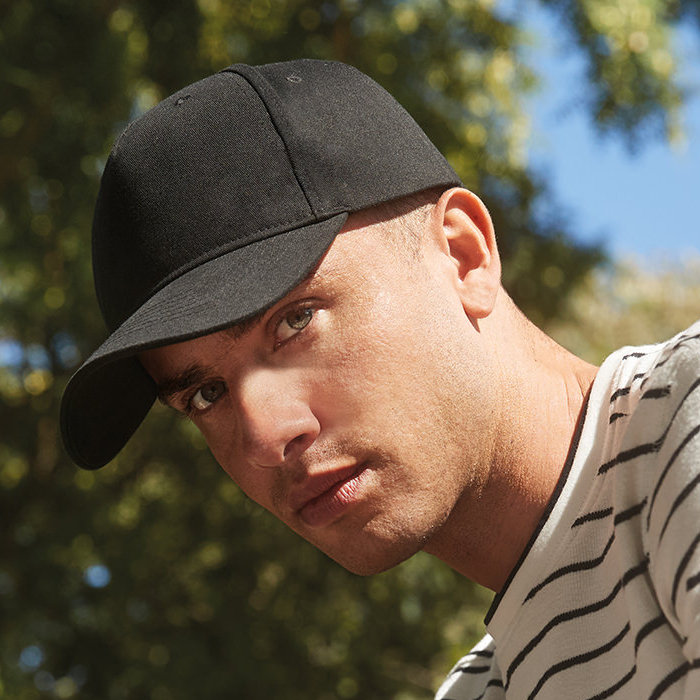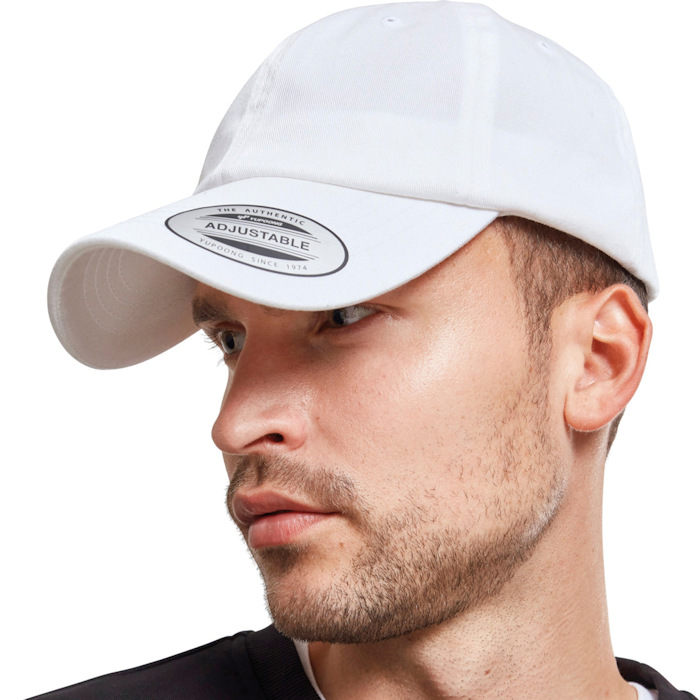 6. Caps – Eco-Friendly Hospitality Clothing.
Caps won't be everyone's cup of hospitality tea but there's no denying they work well in some situations. There's obviously a practical, hygienic aspect to their use. But there's also an aesthetic element. Branded caps can help create ambience if you're aiming for an establishment with a relaxed and informal atmosphere.
Continental Clothing.
So, a quick heads up for eco-friendly headwear. First, we have the Continental Clothing Six Panel Baseball Cap (code N85). It's constructed from organic cotton and comes in five colours. We love the earthy tones in this one. The stone and olive have such a natural feel to them.
Neutral.
Neutral® Certified Responsibility™ have some notable headgear and it's all guaranteed ethical and eco-friendly. This Neutral Twill Cap (O93090) gives a good idea of quality and style. There are eleven colours at time of writing, so no problems matching to brand.
Beechfield.
Beechfield are a big name in headwear and they're increasing their sustainably sourced ranges. Their organic cotton 5-panel cap (code B62N) is an environmentally-conscious take on a timeless design. There's a tear-away label to make rebranding easier and a reasonable range of colours.
Yupoong.
Our last example of eco-friendly caps comes from another well-known name in blank headwear. This Flexfit by Yupoong Low-Profile organic cotton cap (code 6245OC) is one of their classics crafted in pure organic cotton. It features a reinforced front, curved brim and patented Flexfit technology.
Eco-Friendly Hospitality Clothing.
So, there we have it. Just a few ideas if you're into an environmentally sensitive approach or considering a switch to eco-friendly uniform for your business. Hospitality is a vast area that encompasses food and drink, accommodation, travel, tourism, entertainment and recreation. The ease or extent to which you embrace sustainability will obviously depend on where you sit within the industry. But, it's possible, at least to some degree, and even a small change makes a difference.
 Fifth Column, printing t-shirts with love in London since 1977. We offer a comprehensive range of garment decoration services – contact us for more information.
Pages related to Eco-Friendly Hospitality Clothing.