What is Metallic Printing?
Are you considering metallic ink printing for your next range of printed garments but unsure of exactly what's involved? Well, read on, and we'll explain the ins and outs of this eye catching method of embellishment. At first glance, metallic t shirt printing may seem one of those subjects that's shrouded in mystery. Whereas, in reality, it's a relatively straightforward process. That is to say, simply another form of screen print. And, as it often the case with this versatile craft, an effect that relies on the use of specialised inks. In this instance, metal particles in the ink which result in a metallic print when the ink dries. In short, adding a spot of metallic glamour to your custom tees is within easy reach. Screen printing is one of our areas of expertise here at Fifth Column. So, looking for a company to do your metallic ink printing, UK based and with oodles of experience? That's right up our street. Give us a shout and we'll sort it out.
What are the advantages of metallic printing?
Before proceeding, we ought to touch on options within metallic ink printing. Metallic plastisol inks are probably the most commonly used. As the name suggests, plastisol ink is plastic in nature and widely popular due the fact that it's very user-friendly. Of course, it also produces great prints. However, water based metallic screen printing inks are also available. Why mention it? Well, there is environmental significance in that some people prefer a water-based alternative because they consider it kinder to the environment. Plus, in purely practical terms, the print tends to be less 'stiff' and softer to the hand.
So, can printers print metallic? That's a big thumbs up. But, why would you as a customer entertain using gold and silver on your shirts? Well, there are quite a few attractions.
High quality prints go hand in hand with a metallic effect.
Nowadays, greener metallic pigments are available.
Metallic screen printing creates fabulous fashion items for the right sort of retail market.
The impact of your artwork is heightened when rendered in metallic inks and designs achieve a unique 'pop'.
Promotional merchandise is given extra appeal when the print literally shines.
There is a sense of luxury to the finished product when garments are decorated using the metallic ink printing technique.
A point worth noting, there are two main choices when we talk about metallic color. Namely, metallic gold and silver ink. That said, there are variations (often dependent on manufacturer) within metallic screen printing ink. For example, gold ink can be bright or champagne pale, rich or solar hued. With silver metallic, you might opt for the brilliant glint of a coin or a duller gun metal tone. Oh, one more thing, these inks are thicker in consistency. Consequently, the best metallic t shirt printing involves simpler designs.
Best Uses for Metallic Printing.
It's no surprise that metallic ink printing attracts a lot of devotees. Put simply, you'll see that reflective shimmer on a vast number of products. Name it, and it's had the metallic treatment. T-shirts, hoodies, sweat tops, polo shirts, tote bags and plenty more besides. Truth is, there's something marvellous about metal meeting textile. The melding of opposites, a mix of materials that never ceases to intrigue. The softness of fabric adorned with a suggestion of uncompromising rigidity and the sheen of precious metals. Equally unsurprising, the customers who choose it span the spectrum from corporate giant to tiny start-up. For example, the music industry, having your band logo resplendent in metallic gold or silver is irresistible. And, as mentioned above, metallic ink printing takes promo merch to another level. And, let's not forget, it can add lustrous value to your fashion brand.
Metallic Printing Examples.
Next, we have photographs from our metallic screen printing runs. Gold or silver ink printing is unmistakeable with its characteristic glimmer. By the way, print on demand metallic ink results differ somewhat from the below (although you can digitally print metallic ink). All that glisters might not be gold, but these tees do a fair impression.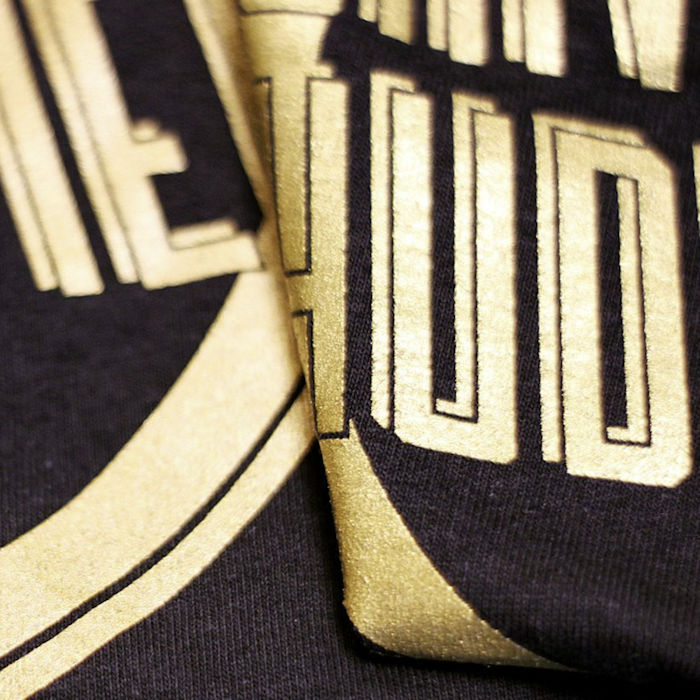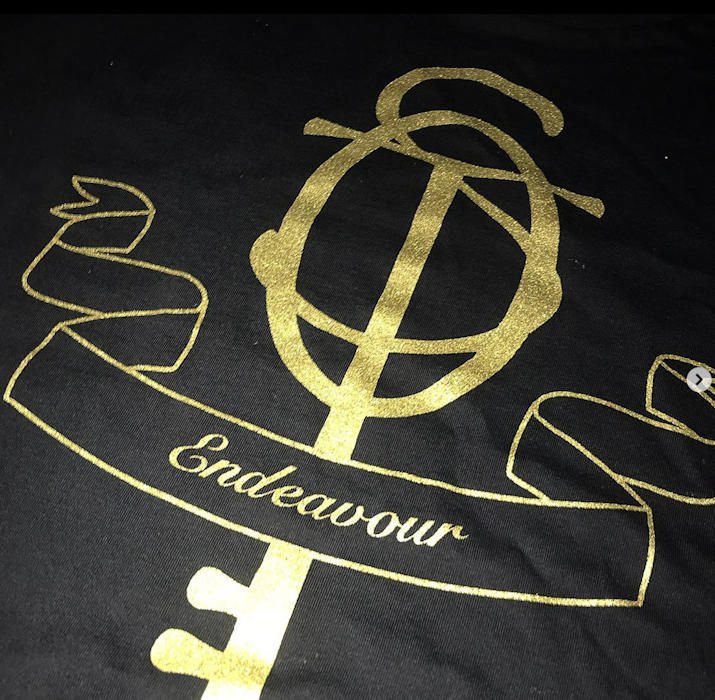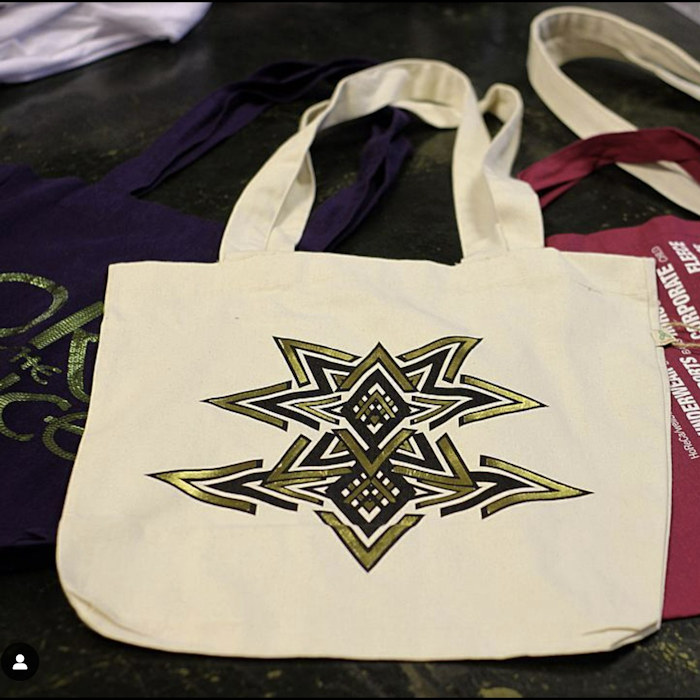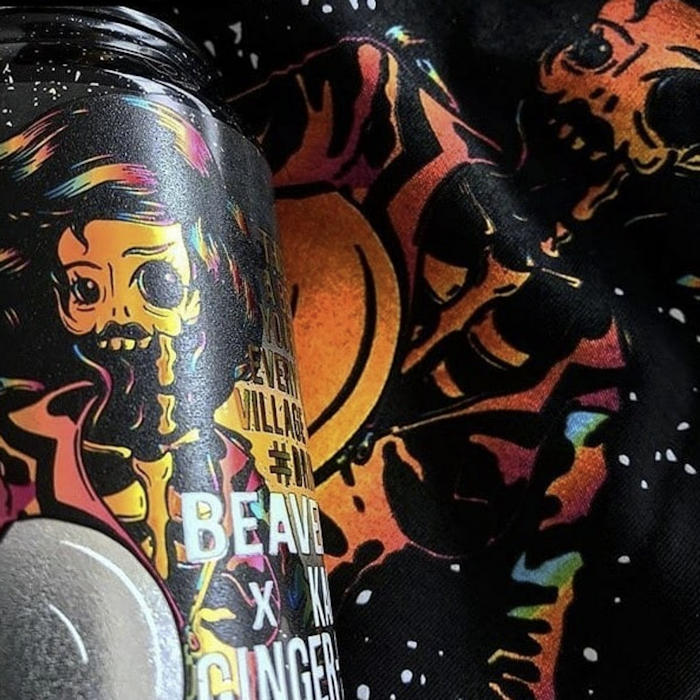 Why Use Fifth Column for Metallic Printing.
Choosing Fifth Column as your tshirt printer is a good decision for a number of reasons. Not least, we're masters of the screen printing craft with a depth of knowledge earned over many years. That capability extends to every aspect of the profession. We'll provide an outstanding print solution irrespective of which particular variety of print is required. And, it will be one that's tailored specifically to your project.
For us, every job is unique and demands our utmost effort to ensure sensational results. Something which is especially relevant when you've got metallic colours in the mix. Can you print metallic on fabric? The answer in our case is yes, we can. And, we can do it to an exceptional standard. We're adept at producing stunning shirts, metallic t shirt printing included, because we've created millions of pieces of customised merchandise. Plus, you can be assured of great customer service from real people who care about the details. And, all of this will be delivered at the most competitive cost we can manage, small print run or wholesale volume. Put bluntly, we think we're your best printer for metallic ink.