What is Puff Screen Printing?
What is puff print? Put simply, it's a method of embellishment which brings 3D effects to your design. Puff screen printing actually raises the lettering or artwork from the fabric. That's to say, the ink sits noticeably proud of the surface on the finished article. It's one of the many marvellous results which can be obtained with high quality screen printing. And one which will definitely bring more attention to even the simplest of graphics.
Puff printed t-shirts have a rather eye catching, somewhat unmistakable appearance. And that's something we love. For us here at Fifth Column, the best t-shirt printing should always be outstanding. Literally so, in this instance. Although a specialised area of the art, the actual process of creating puff printed apparel and merchandise is similar to a standard print run. The magic is mostly down to puff screen printing ink. Whilst there are water and plastisol options, plastisol based puff ink is most commonly used. Especially with bulk and wholesale shirt printing.
How Puff Screen Printing Works.
How is puff printing done? Well, that delightful 3 dimensional characteristic depends on the addition of a foaming agent. When added to plastisol ink, the agent reacts to heat and makes the ink 'puff'. In other words, this puff additive is what produces the desired effect of raising the print. Often, professionals will opt for a lower mesh count with a puff screen to provide a healthy ink deposit. An increased density helps ensure a nice bold result. One thing to note is that thicker text and lines tend to deliver more pronounced puffing of the ink. Another important point is to keep shirts as flat as possible when curing to get the ideal finish. Below, you can see some examples created here in our London print shop.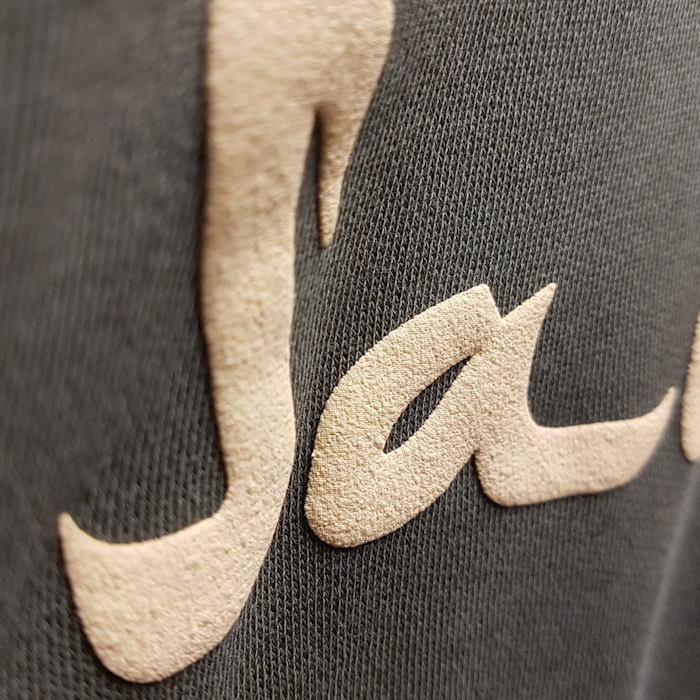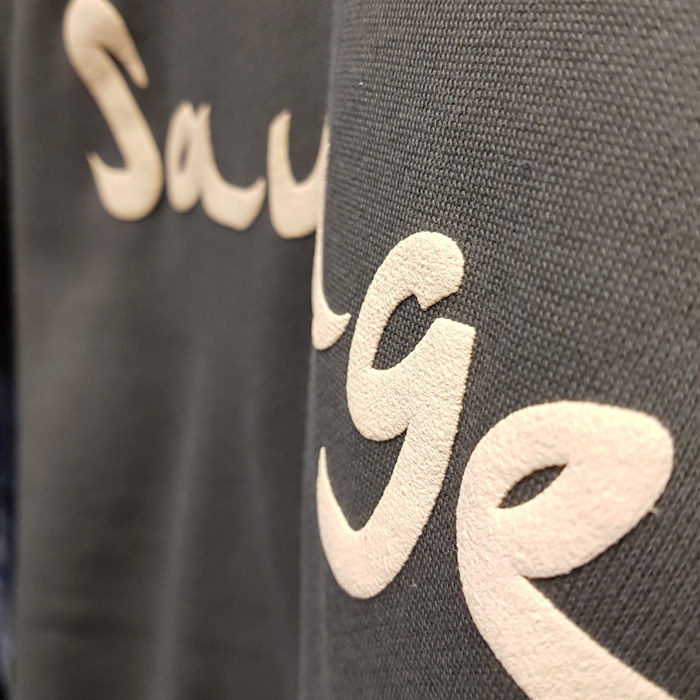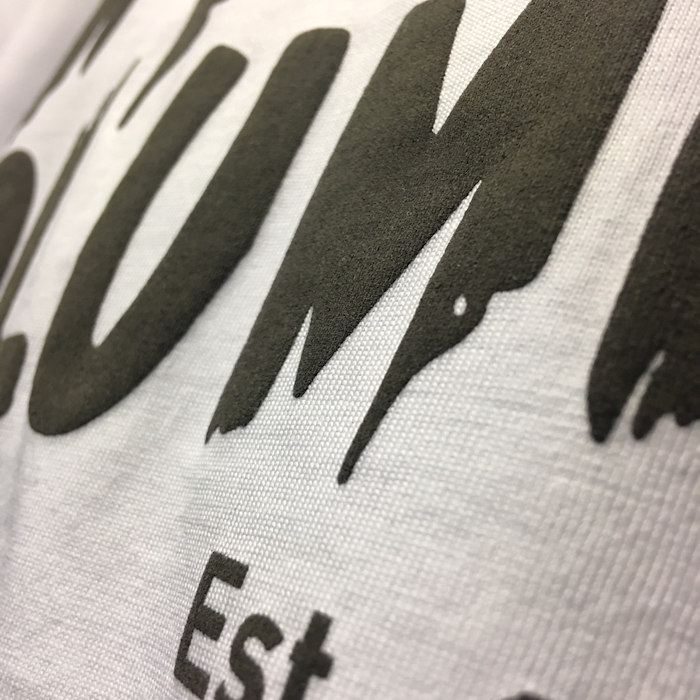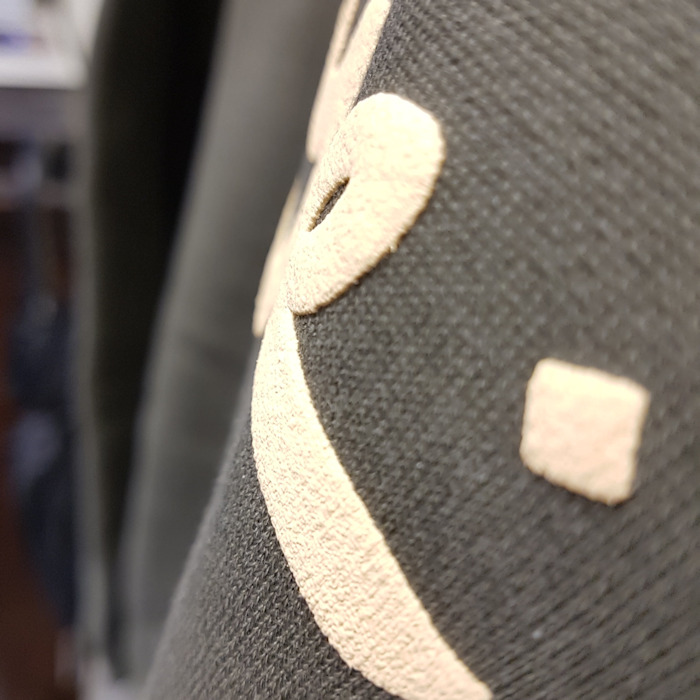 How to wash a puff print shirt?
Let's face it, all clothes last longer when laundered correctly. This is doubly relevant with custom printed clothing. Because there's another factor to consider. Not only the base garment but also the customisation adorning it. As a consequence, it's more important than ever to observe any care instructions which come with your item. Does puff print crack? In truth, puff screen printing ink can be more prone to this due to the nature of the process. However, there are some general rules to follow if you want to keep that treasured puff print t shirt in tip-top condition.
Always remember to turn the item inside out before washing.
If possible, use a mild washing powder or liquid.
Preferably cold wash.
Hang dry. Generally, it's best to avoid tumble drying.
Finally, don't iron the puff printed portion of the shirt.
Use Cases for Puff Printing.
Earlier, we mentioned puff printed t-shirts having visual impact. In truth, a puff print t shirt is only one of the printed garments which can be elevated with a spot of puff screen printing ink. You can employ this method with shirts, sweatshirts, hoodies, and more besides. Even tote bags take on a new dimension with some expertly applied puff screen printing ink.
Now, there clearly many different printing techniques. In some ways, puff screen printing could be thought of as quite niche. But, you might be surprised at its popularity. Fashion and branding are obvious areas where it makes an impression. But, it has appeal with any project where you want extra impact. For example, custom workwear. That puff print t shirt is striking, a talking point for customers. Certainly a technique worth considering if you're thinking about printing a company logo. Or how about the educational sector? Those school leavers t shirts or university society hoodies will be even more memorable. And, it's great for promotional merch.
Pros of Puff Printing.
Right, let's round off by quickly looking at some of the positives for this particular approach to print.
Puff screen printing ink is compatible with Pantone colour matching. Therefore a good option when colour accuracy is important.
Being a comparatively quick process, it's possible to print in bulk. Especially relevant for big orders where costs need to be kept under control.
It accommodates designs with more than one colour. Also, not all of the design needs to be puff printed.
Always important, this form of print is durable. Provided that care is taken with the garment.
Last but not least, puff print can be applied to most textiles.