Well, here we are. Another year just begun. As usual, it's a period filled with promise. Yet inevitably tinged with that 'after the Lord Mayor's show' feeling which follows the Christmas holidays. One thing we always anticipate with some eagerness are new ranges of plain clothing for customisation. Thankfully, the premier amongst them has arrived in good time. That's to say, Stanley Stella 2023 Spring Summer has landed. If you're into sustainable apparel, you're probably already familiar with the brand and will understand why their launches are circled in our calendar.
Like we sometimes say, the best bespoke ink and stitch looks even better on quality clothing. So, no surprise to see we feature the full range of Stanley Stella blank merchandise on our site. It's all available to browse at your leisure. All ready for a spot of outstanding Fifth Column print and embroidery. And that includes the latest stuff from SS23, a flavour of which you'll find below.
New Styles in Stanley Stella 2023 Spring Summer.
Right, let's jump straight in with the new styles included in SS23. Now, it has to be said, there are probably fewer than in some previous January launches. Perhaps a reflection of the fact that the Stanley Stella catalogue is pretty comprehensive before you even think about adding new stuff. As a consequence, these latest additions are largely extensions to very strong existing ranges. Or, as with the children's items, addressing areas that aren't currently covered. We'll take a quick run through them.
You can never have too many plain hoodies for printing and embroidery. This is a lovely option. By which we mean a unisex, medium fit. With a classic kangaroo pocket.
Similar sentiments could be applied to plain sweatshirts made for personalisation. Another must-have in many branded ranges. Once again, this one is unisex and medium fit.
Often overlooked when folk consider branding their own apparel. However, shorts can be a superb supplement to your main ranges. Especially when they're organic cotton.
If it's worth doing, it's worth doing a vintage version. Well, that's what we think. And it looks like Stanley Stella agree. They've also provided a retro-inspired take on their new hooded top.
Ditto for the latest sweat top. Eight gloriously garment washed, garment dyed colours are on offer with this organic gem. Please note, each item may vary and care instructions are best be observed.
How about kids shorts? Their inclusion is an instance of what we mentioned about Stanley Stella SS23 filling a few gaps. Here you have junior jogger shorts that could capture their fair share of the market.
Yeah, we know. Too cute for words. Needless to say, that won't stop us saying a few. In short, this tiny zip top is a great idea. That is, extending a proven and popular design across the board.
In the past, customised clothes for babies were often thought somewhat niche. Perhaps less so nowadays. As indicated by this new short sleeve body. Surely, proof that you can profitably customise from the crib.
Without doubt, a logical step. And one which could go big. Any burgeoning baby brand definitely needs to consider the eco-friendly side of things. Plus, this should work well with personalisation platforms.
Okay, all good, it's great to see new products. But this Stanley Stella 2023 launch also has some other interesting aspects. Notably, even more colours on the card.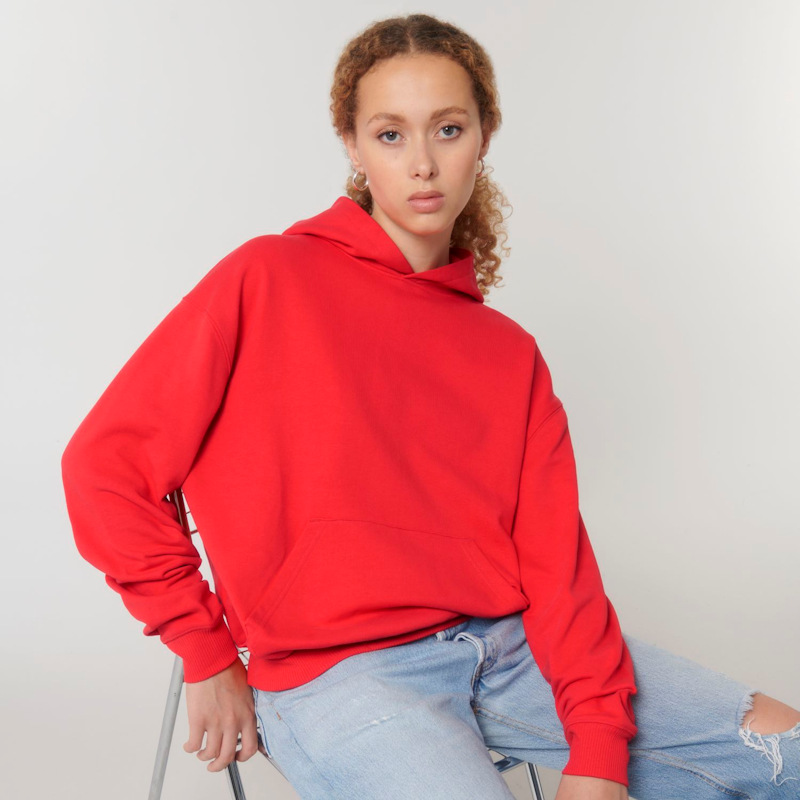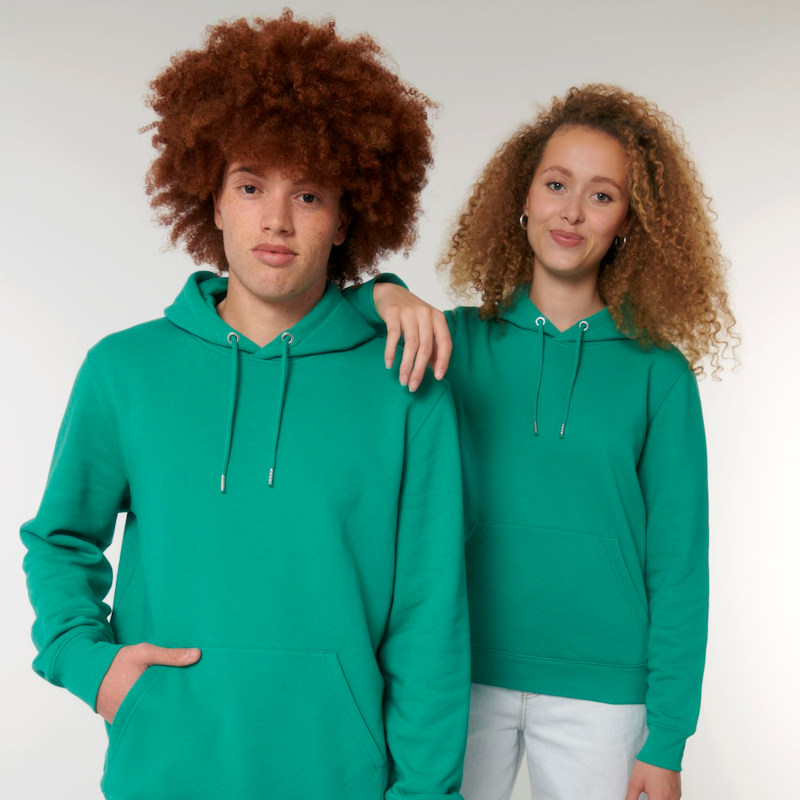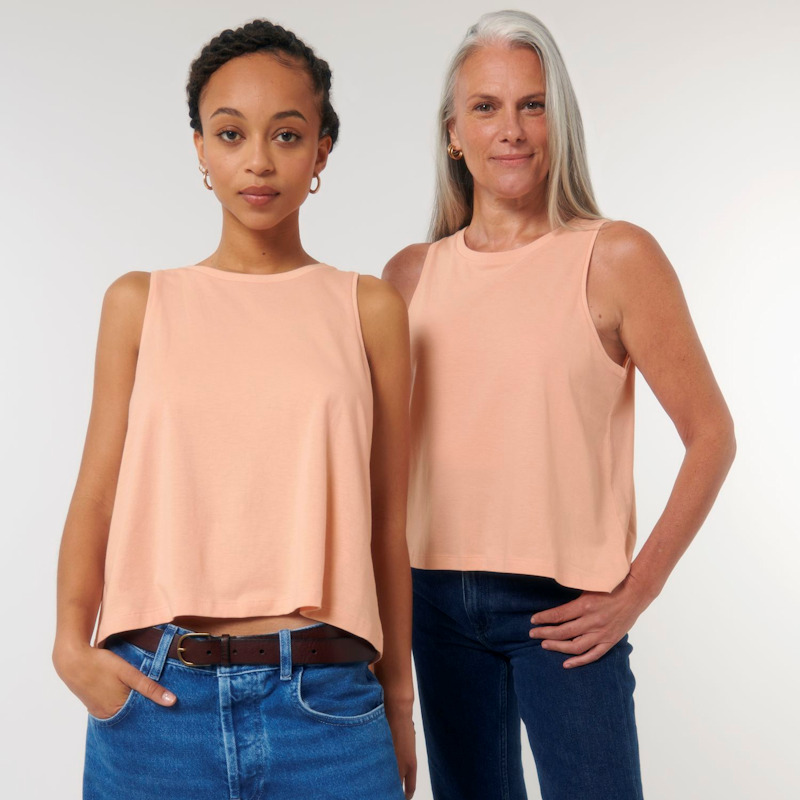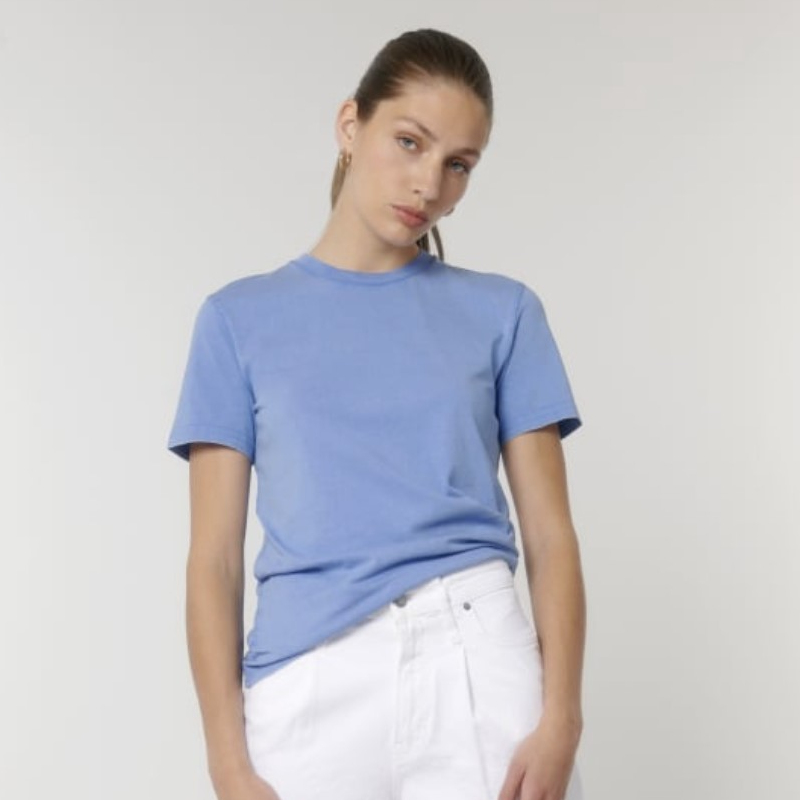 New Colours in Stanley Stella 2023 Spring Summer.
Alongside new styles, a number of fresh shades have been introduced. Obviously, these figure in many of the new garments. But they also appear in existing lines such as the Creator t-shirt, Cruiser hoodie and Changer sweatshirt. An outstanding colour palette is one of this blank brand's established strengths. The latest additions are an interesting mix of bright and subtle. An example of the former, deck chair red and go green are especially vibrant. You would have have thought an attractive choice for any range of bold customised summer gear. Whereas freche peche is summery, it offers more pastel charm.
Where Stanley Stella 2023 spring summer really comes alive is relaxed retro inspiration. Together with the above, we also have an increase in garment dyed options. Swimmer blue, hydro, khaki and black rock are delightfully understated twists. Suggestive of clear skies, cool water and earth quietly flourishing under hot sun. Garment dyed gold ochre is a standout. And one we imagine will score with plenty of people who are planning their summer print and embroidery.
Themes in Stanley Stella 2023 Spring Summer.
All of which gives us a fairly good idea of the thinking and emphasis behind the most recent collection of plain garments from Stanley Stella. One key element is a wider choice in mid-season styles. What's termed as the 'Sunset Edition' adds more options in medium fit, adaptable weight hoodies and sweatshirts. Clearly, the type of apparel that can be worn comfortably with other items. And done so during much of the year. Basically, excellent pieces for layering. Of course, these garments are only part of the story. To illustrate the point, it's easy to think of outerwear as mainly relevant for cooler months. But plain jackets and bodywarmers for print and embroidery are all year round items when combined with the right tees, polos and sweats.
Vintage Effect Dyes.
As mentioned, SS23 also focuses on finishes that give an already-worn feel. It's a welcome development. Because vintage never really goes out of fashion. There's something comfortingly nostalgic about an aged effect on fabric. What's more, it lends itself wonderfully well to customisation. All things considered, Stanley Stella 2023 Spring Summer both complements and increases the current catalogue. And as we've come to expect, it does so in an ethical and sustainable manner. That's to say, all these new products are responsibly sourced using environmentally friendly materials like organic cotton. As an award winning Stanley Stella dealer, we're sure to see a lot of them on our screen printing carousels and embroidery machines. Before you go, take a look at this SS23 video. It's got a laid back active vibe that's pretty much spot on for the products.