It's that time of year again. What do we mean? Why, the Stanley Stella Autumn Winter 2022 launch of course. Here at Fifth Column, we're always happy to catch a glimpse of some new Stanley Stella goodies and get a feel of what's on offer in the coming months. As a rule, their seasonal launches are usually sprinkled with special touches. And we're pleased to say that Stanley Stella AW22 stays true to form. We're talking new styles and a number of new colours that will make your mouth water.
It's worth noting, this feels very much like the first stage of Stanley Stella Autumn Winter 2022. No doubt, there will be more exciting developments as we edge closer to the festive period. For now, we'll concentrate on a selection of tops which promise plenty of customisation possibilities as the weather turns a little cooler. Yeah, we know, it sometimes seems odd to be talking about such things when we're all steaming in the sun. But, that's the nature of the business. With printing and embroidery, you need to plan ahead. So, here we go, a quick look at Stanley Stella Autumn Winter 2022.
New Styles in Stanley Stella Autumn Winter 2022.
Stanley Stella AW22 kicks off with a of nice smattering of new lines. It's strong on what could be termed 'knitwear' styles. That is to say, some fresh takes on hoodies and sweatshirts. Of course, there aren't other items as well.
Dry Hand Feel.
Several of the new products feature a 'dry hand feel' which refers to the tactile comfort of the garment. First up in Stanley Stella's Dry Range, we've shown the Miller Dry quarter zip sweatshirt (code STSU795). This is unisex and comes in six very commercial colour options at time of writing. It's organic cotton, as you would expect.
Next, we have the Cooper Dry pullover hoodie (code STSU797) which echoes the boxy styling story and dry feel elements of the Miller sweat. Ten shades in this one with an attractive mix of on-trend and reliable standard. The dry range also features a sweatshirt. Specifically, the Ledger Dry sweatshirt (code STSU798). By the way, this garment is pictured below as 'Worker Blue' in the new colour illustrations. Similar to the other dry garments, this crew neck is unisex with a boxy fitting. Following on from that, there are some highly fashionable shorts. Boarder Dry (code STBU944) are unisex, dry hand feel jogger shorts which have a distinctly street style vibe to them. There are five colours. One of which, desert sand, is rather delicious.
As mentioned, Stanley Stella AW22 puts considerable emphasis on the sort of tops you wear over tees and polos. Another example, the Locker Heavy zip hoodie (code STSU953) is a delightful combination of up to minute styling with organic quality. At 500 G/M², we can see this getting a lot of attention in customisation circles.
Recycled in Stanley Stella Autumn Winter 2022.
One more of these new tops that deserves a mention is the RE-cruiser hoodie (code STSU800). In the past, we've spoken of the growing popularity of recycling and re-using materials. This recycled version of the Cruiser hooded top shows just how widespread the practice is becoming. Finally for knitwear, we have a new lined zip-up top. Namely, the Hygger Sherpa zip hoodie (code STSU956) which offers an interesting, more outdoorsy kind of alternative to many zip hoodies. It's French Terry and made of environmentally friendly organic cotton and recycled polyester blend.
Kids in Stanley Stella Autumn Winter 2022.
Good news, this launch also has a little something for those wanting to customise children's clothing. There are three new variations of existing and well established items. First, the Mini Creator Dip Dye t-shirt (code STTK940) is a lovely take on the classic kids Creator tee. Similarly, the Mini Cruiser Dip Dye children's hoodie (code STSK942) is a version of their fabulous hooded top. And, to enable that complete outfit, we have the Mini Shake Dip Dye jogger pants (code STBK943). All three feature the scintillating Dip Dye Hydro Aloe colourway which we think is a real statement look for the youngsters. Now, that seems like a rather appropriate point at which to consider another interesting aspect of Stanley Stella AW22.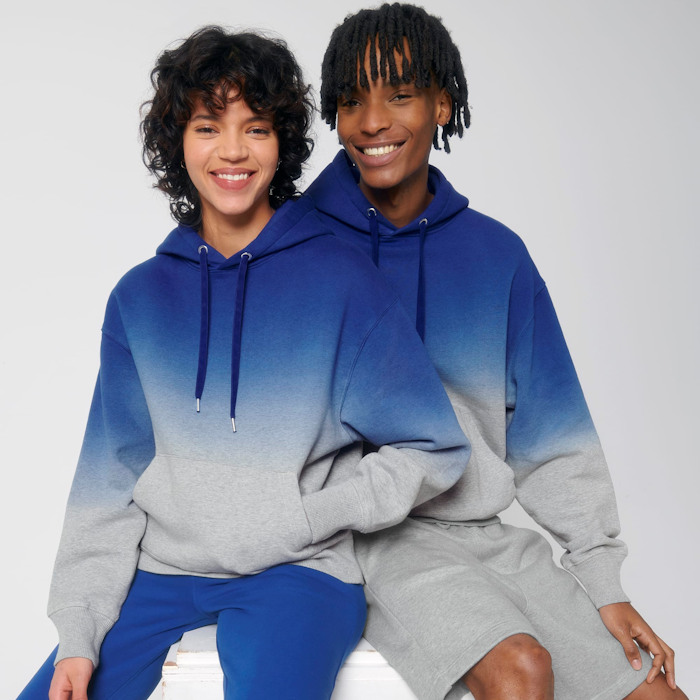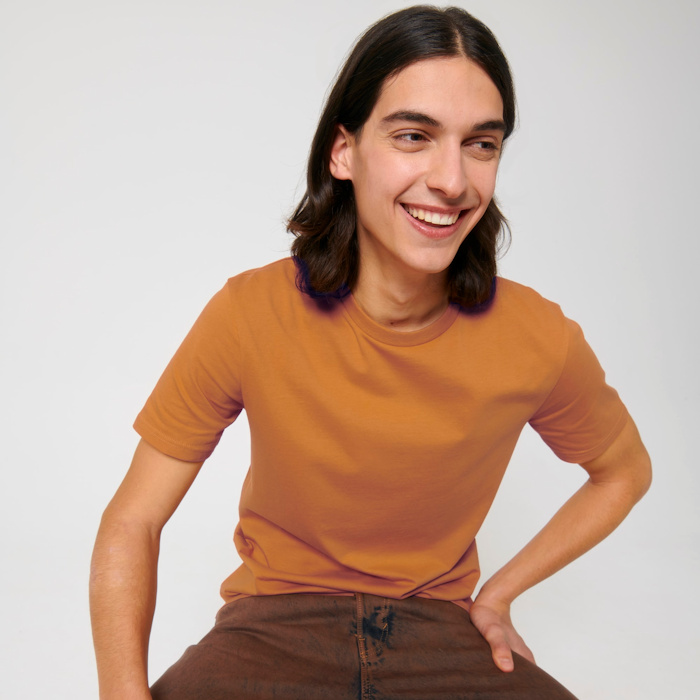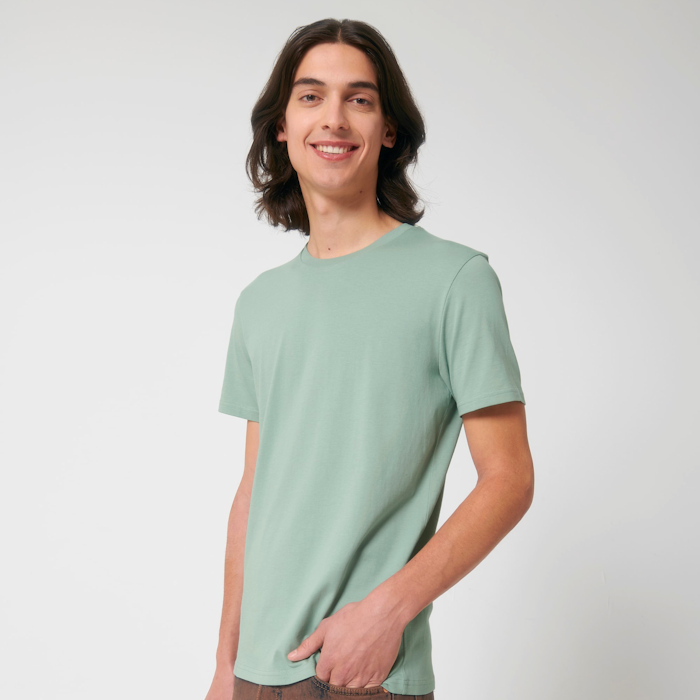 New Colours in Stanley Stella Autumn Winter 2022.
Before concluding, we simply must mention some of the new shades introduced in the Stanley Stella Autumn Winter 2022 collection. Colour one of those areas where Stanley Stella have a proven track record and this launch continues the tradition. As already seen, there is some serious dip dying action going on here. That's to say, 'Worker Blue and Heather Grey' alongside 'Hydro and Aloe' – vibrant is the word that springs to mind. Beyond these two, there are a variety of other shades which balance classic and contemporary and should be popular in everything from workwear to retail and reselling.
Incidentally, the products used to demonstrate colour options are the Slammer Dip Dye pullover hoodie, several shots of the timeless Creator t-shirt, and the new Ledger Dry sweatshirt.
And that's about it. For now, anyway. We're an award winning Stanley Stella dealer and, just like our customers, we always anticipate their seasonal launches with a certain excitement. For us, there's nothing quite like seeing new sustainably sourced blank apparel and discovering how to best embellish it.