Seasonal launches are especially exciting and here at Fifth Column we always look forward to Stanley Stella's new ranges. Summer is slipping away, autumn leaves will be falling all too soon, and winter waits round the corner. But good news on the fashion front usually lightens our mood. It's a chance to refresh the feel, make some style changes and explore different directions with colour and texture. You won't be surprised to learn that the new Stanley Stella AW 2021 collection does all of those things in spades.
This collection contains several fantastic new styles and plenty of sensational style extensions. Plus, an intoxicating new colour card. And, as always with Stanley Stella, good looks and superior garment quality go hand in hand with ethical and responsible methods of manufacture. So here we go, Stanley Stella AW 2021. A small sample of what's in store over the coming months. A must-read if you need blank clothing and want it to be on-trend and sustainably sourced.
Themes – Stanley Stella AW 2021.
There's a lot happening in this latest collection from Stanley Stella and some very strong themes running through it. There are bold stylistic statements and inspirational patterning. Upgrades to the weight of certain products and eco-friendly developments in the composition of others. And, just for good measure, they throw in an addition to their iconic gallery. Sound good? Well, it is. Let's see some examples.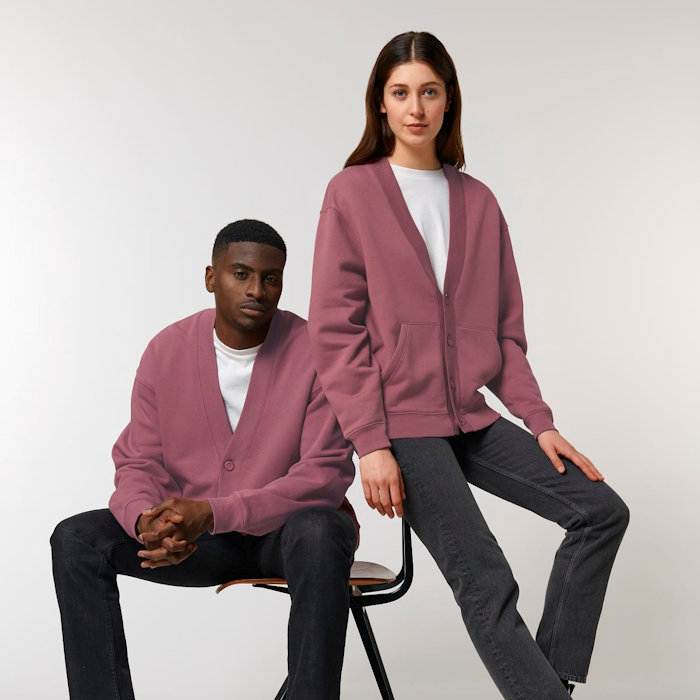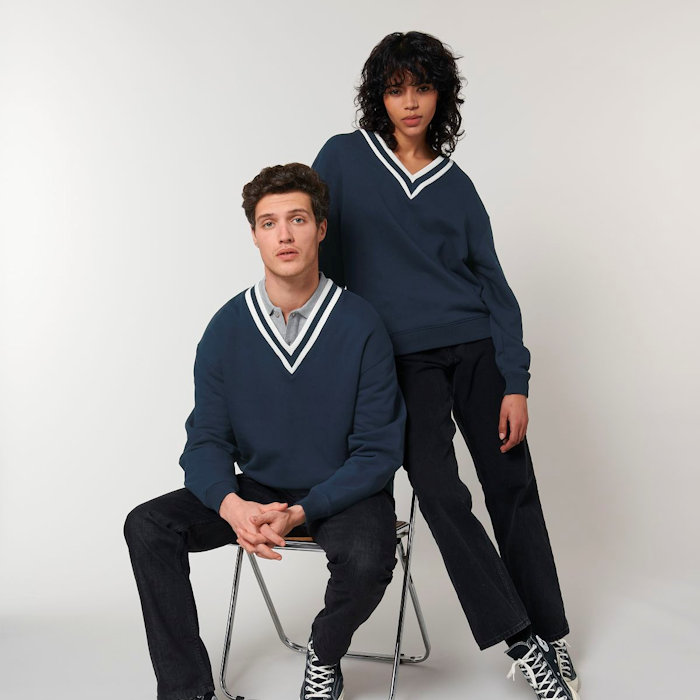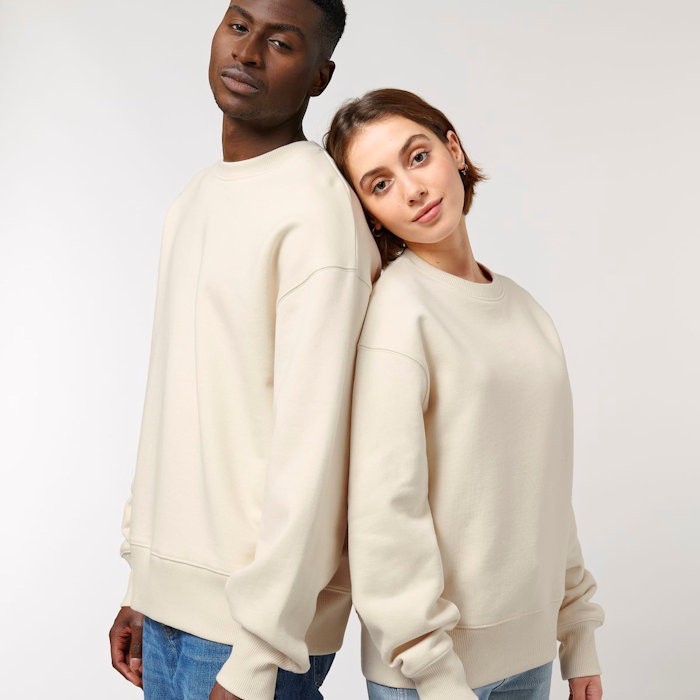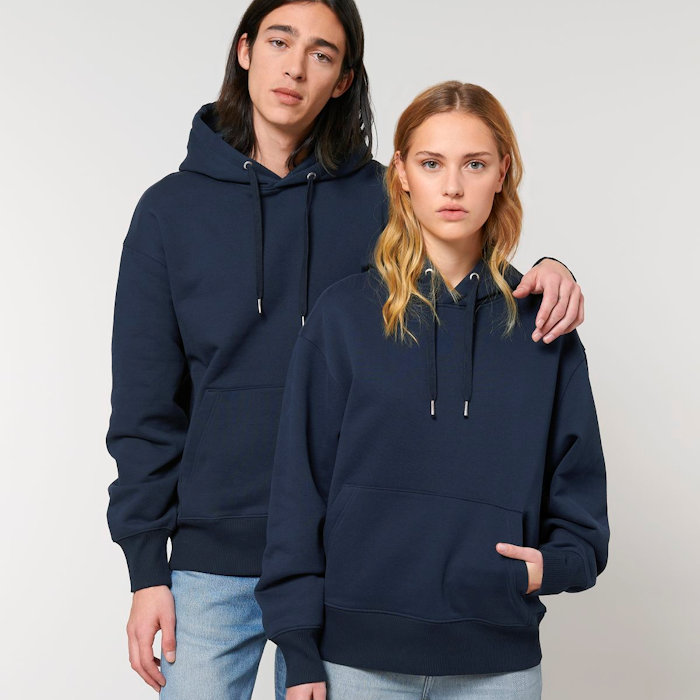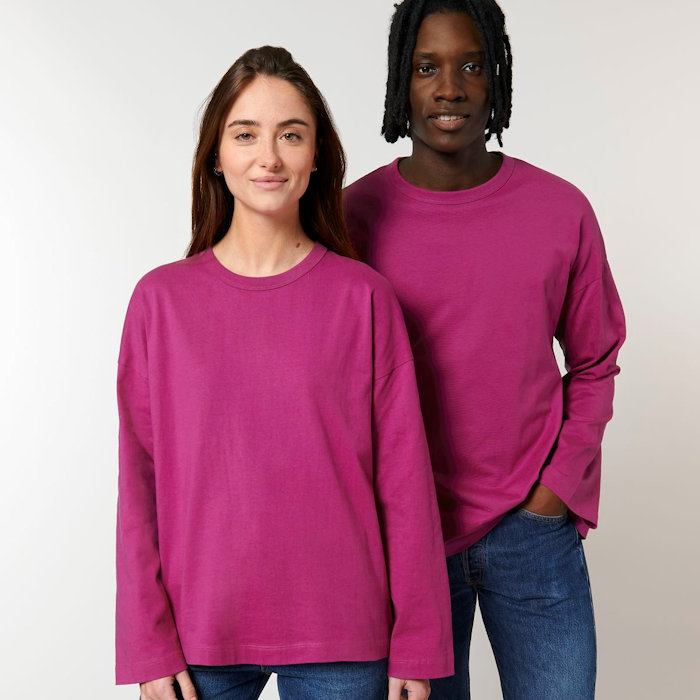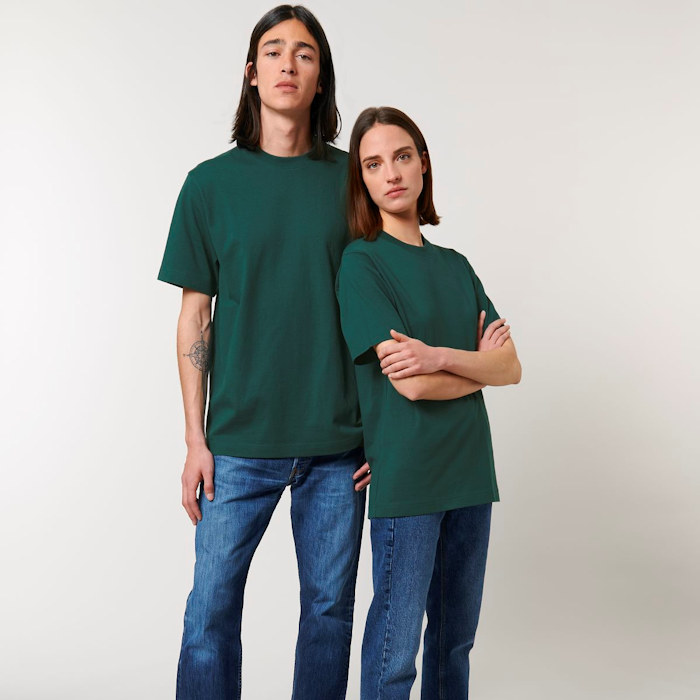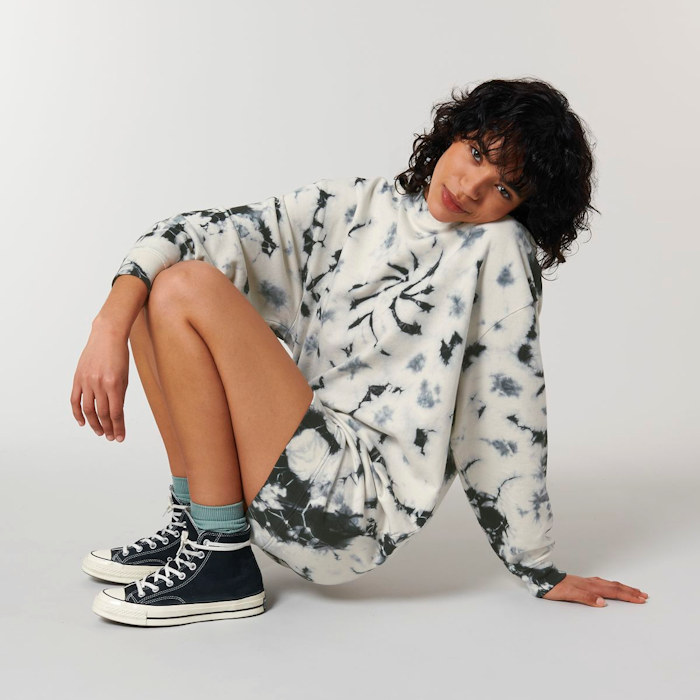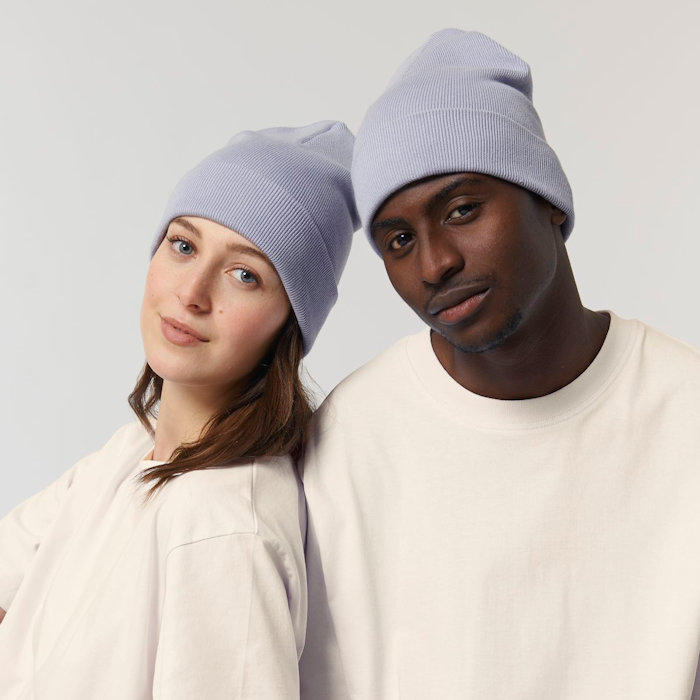 Preppy.
A number of new styles make their debut under the stylistic umbrella of Prepster Club. The prepster range is 90's retro-inpired with touches of skater, hippy and punk in the mix. We love a little retro vibe, fashion is reliant on it in many ways. But interpretation is everything and Staney Stella do a very good job of giving preppy a fresh twist. For instance, the Fletcher cardigan is unisex, oversized and made from 85% organic cotton and 15% recycled polyester. It's a fabulous rethink of the varsity cardy. In the same vein, the Sloaner sweatshirt is a totally cool new take on the preppy pullover.
Super Heavy.
Stanley Stella have taken heavyweight to another level with their Slammer Heavy and Radder Heavy super heavy sweatshirts and Freestyler t-shirt. Something which we think is going to be incredibly popular with both the printing and embroidery industry and customers. These blank sweatshirts weigh in at a stunning 500gsm and the tee is a hefty 240gsm. There's no doubt that heavyweight commands a special place in the custom clothing market and Stanley Stella have made a typically audacious move with these garments.
Creativity Unleashed.
Stanley Stella have become synonymous with a creative approach and their Autumn Winter 2021 collection maintains the standard. We'll examine colours more closely in a moment, suffice to say that their reputation for innovative fabrics and exciting dying techniques is further enhanced. The Stanley Stella AW21 launch will bring a gleam to any designer's eye who's looking to unleash a little creativity.
Recycling.
Sustainability is at the core of everything that Stanley Stella do and it's reassuring to know they're not resting on their laurels. AW21 sees them unveil some striking new recycled styles. RE-Creator is a sensational version of the iconic Creator t-shirt, one constructed from equal parts organic cotton and recycled cotton. RE-Blaster boasts the same material blend and both t-shirts feature a unique melange effect. Ethical t-shirt printing is one of our specialities here at Fifth Column and we can't wait to get our inky fingers on these.
Another recycling example from AW21 is the new Rib Beanie, knitted from 85% organic cotton and 15% recycled polyester. We're firm believers in recycling and this development with garments made from recycled content from such a highly respected supplier is genuinely exciting.
Iconic Polos – Stanley Stella AW 2021.
One of the stand-outs in Stanley Stella AW 2021 is the Prepster polo shirt. There are several versions of this style, the majority short sleeved. The base Prepster polo has a massive selection of shades. Then you have Prepster Vintage, a garment dyed take on the base garment. And there's also the Prepster AOP which features a thoroughly charming check jojoba all over print. Plus, there is a long sleeved option. All are crafted from organic cotton and 230gsm. It's a great upgrade to what is an already iconic polo. And an update that will no doubt quickly find lots of fans amongst polo aficionados and beyond. As Stanley Stella say, it's the polo remastered!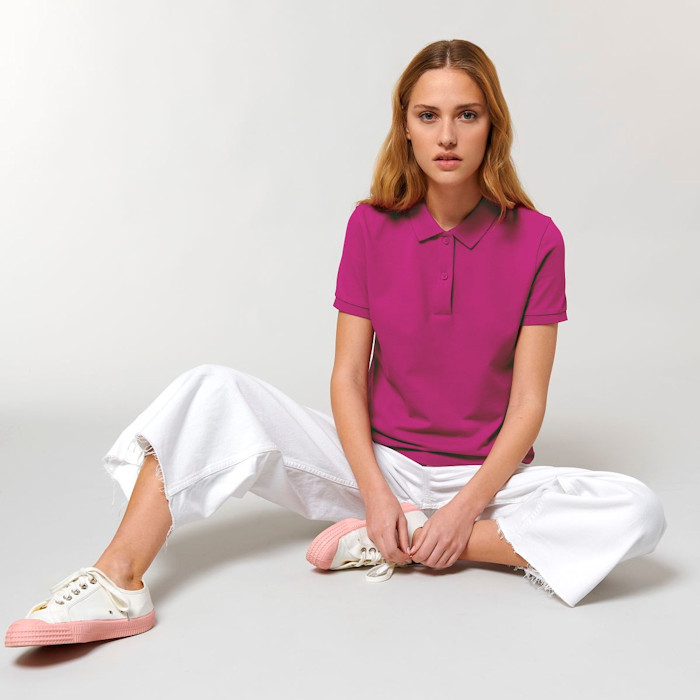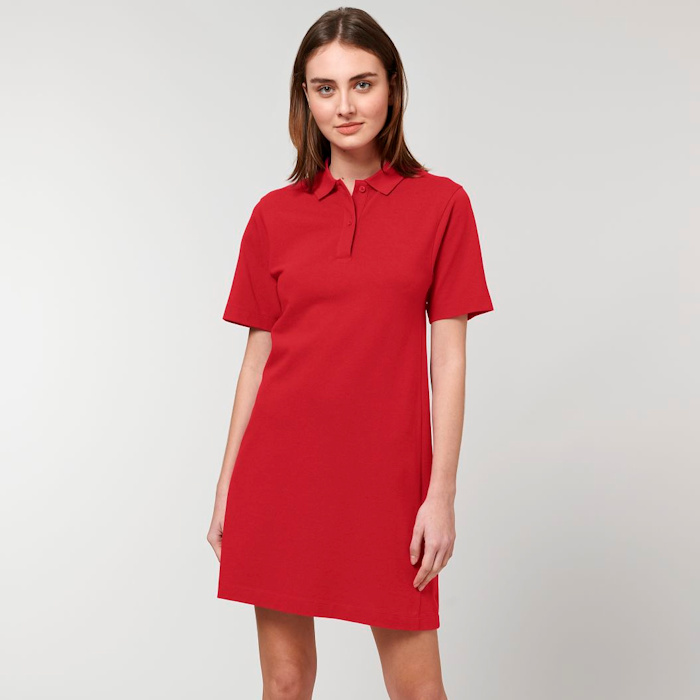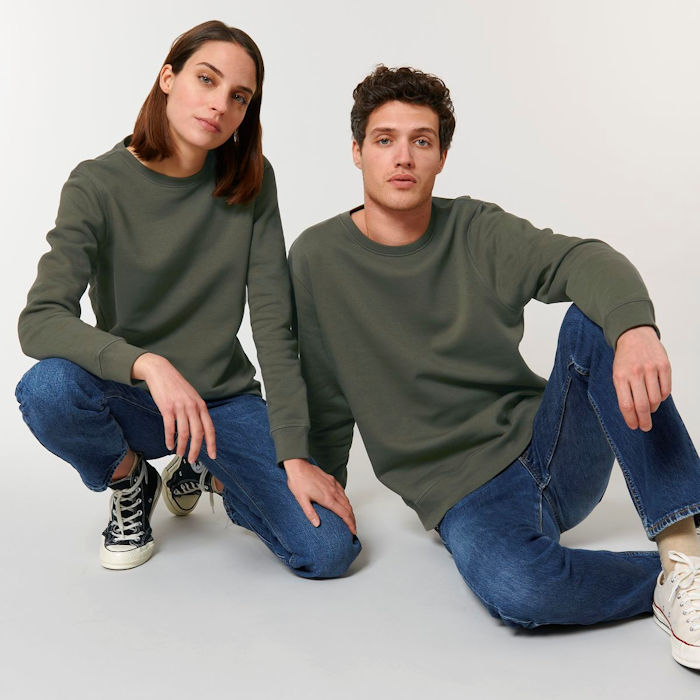 More – Stanley Stella AW 2021.
As previously mentioned, there's plenty happening with AW21. We can't possibly include everything in this piece but we do have a few more highlights. The Elliser is a women's short sleeve pique polo shirt made from 95% organic cotton and 5% elastane for a more feminine fit. Stella Paiger, a decidedly fab new dress, brings a polo neckline to the dress party.
Stanley Stella's Essentials range is extended with the Roller sweatshirt which offers comprehensive size and colour options. Another addition to Essentials is the Light Tote bag, a tote that we imagine is going to see a lot of screen printing ink and professional embroidery action. Two new pieces of headwear also make an appearance. We've already mentioned the Rib beanie but there's also the Fisherman beanie. This is a slightly chunkier alternative and available in a lovely selection of colours.
Beyond this, lots of existing styles are extended with the addition of colours from the Autumn Winter palette. Talking of which, let's take a look at that.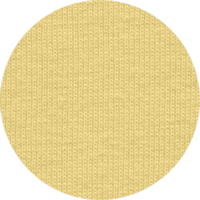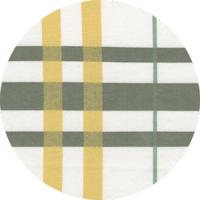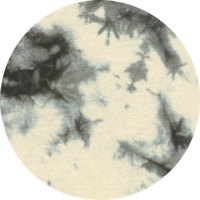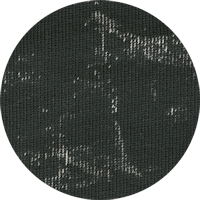 Stanley Stella AW 2021 Colours.
You're going to adore the colour card used in Stanley Stella AW21. Vast choice and on-trend colour options are an established strength of Stanley Stella and the story continues in this latest offering. The selection of plain shades is a carefully constructed, beautifully balanced palette which won't fail to delight. In turn, these are complimented by some spectacular innovations. It's hard not to love Hibiscus Rose Space Dyed and Check Jojoba, especially in the context of the colour card. On top of which we have exquisitely organic feeling combos such as tie-dyed natural raw & black and the garment dyed black splatter.
Three existing shades complete the picture. Khaki, burgundy and glazed green work perfectly with the new introductions. Everything considered, the AW21 colour palette is a pretty satisfying prospect for garment decorators. Not least because customers appreciate being offered something that feels classic yet contemporary.
Conclusion.
All in all, Stanley Stella AW 2021 is a very strong collection. One that builds on proven successes, isn't afraid to explore new areas, and keeps fashion in focus. Whatever plaudits it garners will be well deserved because what Stanley Stella do is far from easy. In other words, maintaining and growing ethical business is tough. They're a B2B bulk clothing supplier that has flowered into one of the most sustainable brands in the world. Whilst, at the same time, they're renowned for the superior quality of their merchandise. Needless to say, we're proud to have earned a place amongst their limited number of official UK partners.
To round things off, check out this AW21 video.
Fifth Column have been printing t-shirts in the UK since 1977 – we offer an extensive range of garment customisation Services – and love what we do. Contact Us for more information or get an online Quote.