This is a review of the Stanley Stella Triber t-shirt, a new long sleeved tee that's recently been launched in the blank t-shirt market (part of the  AW21 collection). My review is very much a personal interpretation written from the customer perspective. By which I mean how the Triber tee feels in your hand and when you wear it. How it fares in the wash and performs on the ironing board. That said, this t-shirt is primarily intended for wholesale rebranding and resale. And the custom clothing arena, printing and embroidery, has certain requirements beyond mainstream fashion. With that in mind, I'll also include reference to personalisation and how I think the shirt suits that process.
The images used in this article are a combination of Stanley Stella professional pictures and my own amateur photographs of example items. Needless to say, it's quite easy to differentiate between the two. Anyway, let's see how I got on with the Triber t-shirt.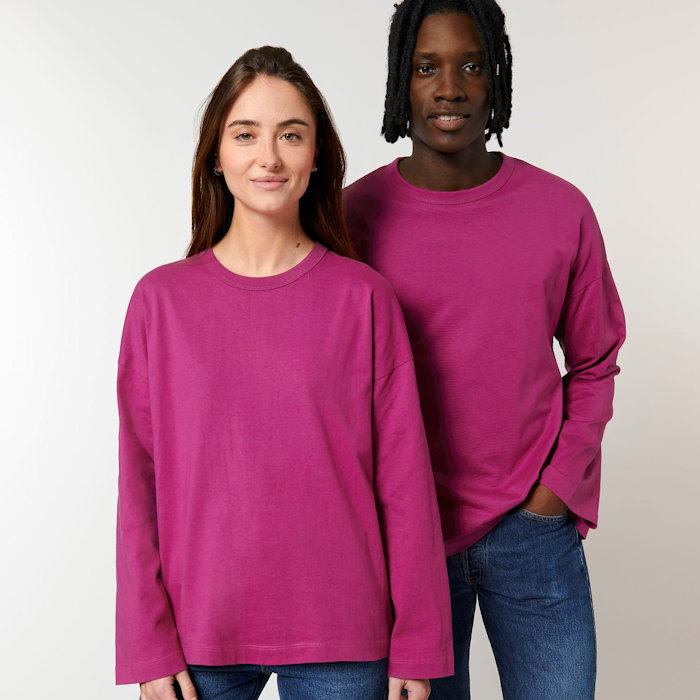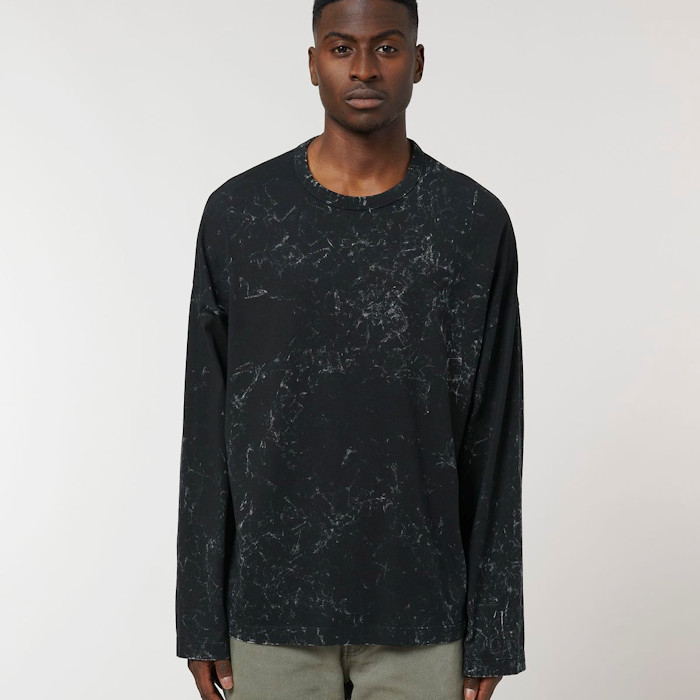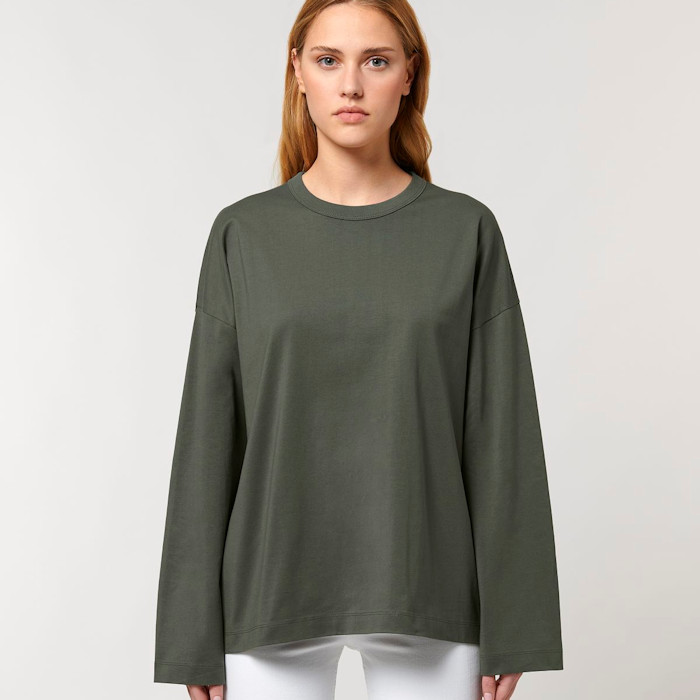 Choices in the Triber Tee.
We'll start our review of the unisex Stanley Stella Triber t-shirt with some general information about the shirt. That is to say, the basic choices such as colour, stylistic variations and size options.
The triber long sleeved t-shirt currently is currently available in 6 plain colours. These include black, a heathered grey, white, khaki, French navy and a vibrant pink orchid flower. My initial observation is that these shades are accurately represented online when compared to the real thing.
Triber Splatter.
In addition to plain colours, there is also a separate variant called the Triber Splatter. The base colour of the tee is black which, as the name suggests, is patterned with a pale grey splatter. This lends the shirt a marvellously retro, distressed feel without it actually having been distressed in the traditional sense of the term. The splatter effect is achieved by a garment wash and dying technique. As a result, each t-shirt will vary somewhat in appearance. The latter is something which I think has genuine appeal. It adds a unique element to the range.
In my opinion, the Triber Splatter is a fabulous twist on the base shirt. A carefully considered print applied to this subtle marbling effect is going to look stunning. And perhaps more importantly, given the context, have heaps of potential for fashion rebranding.
Triber Sizes and Weights.
As you would expect from Stanley Stella, there's a wide size range going from XXS to 3XL. That's pretty comprehensive when you remember that the Triber tee is an oversized style. It is worth noting that the plain and splatter variations differ in weight. The solid colours feel like they edge into the lower end of heavyweight, whereas the splatter is maybe lighter – more mid-weight. An impression that more or less corresponds with the manufacturer's stated weights of 180 gm² and 155 gm² respectively.
To conclude the overview, I ought to mention that the Triber tee features an unobtrusive shoulder seam and ribbed binding at the neck. It also has narrow twin top stitch on the hems and collar. The stitching and seams are small details but they add a sense of quality to the finish on the garment.
Triber T-Shirt Measurements, Fit and Style.
Right, let's get down to specifics. Some first-hand, detailed information about measurements. This strikes me as particularly important because the Triber t-shirt design is oversized. Although that's a positive in terms of fashion, oversized is very on-trend at the moment, it does leave room for confusion from the customer perspective. Fully appreciating this aspect of the styling will avoid any disappointment.
I've used a medium-sized Triber Splatter t-shirt here to illustrate the differences that can be expected. The medium chest measurement, armpit to armpit, is 23 to 24 inches with the shirt laid flat. By the way, this is the recommended way of gauging the chest on a tee. Taking an actual physical measurement round your chest is discouraged because it doesn't allow for movement and may come up too small. That aside, in comparison, a standard fit medium usually comes in around 20 to 21 inches. Whilst not massively more, there is a clear difference. In contrast, the length at approximately 28 inches is fairly much what you'd expect on a standard medium.
Open sleeve.
The sleeve is another feature on the Triber worth noting. You'll see from the earlier Stanley Stella model photographs that it's open and drops slightly lower over the wrist. This a cool stylistic touch but might be a surprise if you're expecting the customary length and fit.
I know from conversations with the professional printers at Fifth Column that ribbed sleeves tend to be more popular on long sleeved t-shirts in the printing and embroidery world. However, I doubt it will be an issue with the Triber tee because the nature of the design demands this type of styling. It's a necessary adjustment, one small compromise on the customisation front for heightened fashion appeal. An approach, from the manufacturer, which I think will makes sense.
In the Wash.
My experience of the Triber t-shirt was that it washes and irons perfectly well. Incidentally, I realise these days not everyone bothers ironing casual clothes such as t-shirts. But I'm old school and prefer clothing to be freshly pressed after washing. I also deem it to be an obligatory part of the review. For once, I followed the care instructions and washed at 30° without tumble drying. I should point out that Stanley Stella state that colour may bleed with garment washed, garment dyed apparel such as the Triber Splatter.
The labelling is cleverly designed on all of the Stanley Stella products I've looked at and this shirt is no different. There is a very discrete size label in the neck. The other care and info labels are in the side seam and can be gently pulled out by hand. I mention these facts for two reasons. First is that easy label removal can be a significant factor for the print and embroidery industry when rebranding products.
The second reason is more personal. Namely that labels in clothing which comes in direct contact with your body tend to irritate me. I'm very appreciative when they're either small enough to ignore or effortlessly removed.
Organic Cotton and Ethically Made.
In recent years, there has been a growing awareness in the UK of how our clothing is manufactured and supplied. In other words, more and more of us view sustainability in clothes production and responsible sourcing as positive selling points. Ethical t-shirt printing has become a big deal and a big part of that deal is the blank garment itself. Stanley Stella score very high marks in this regard. Their Triber t-shirt is a good example of the point. It's made from certified organic cotton and produced in accordance with the Fair Wear organisation guidelines. The latter is an independent body that concentrates on improving conditions for those working in garment factories. All of which matters to me as the wearer and the good folk out there who need apparel printed and embroidered.
Furthermore, and perhaps just as relevant to the review, organic cotton seems to feel better against your skin. In short, these Triber tees feel gorgeously soft to the touch, especially the Splattered version. I'm reliably informed that organic cotton also often gives superior results when screen printed.
Review of the Stanley Stella Triber T-Shirt – Star Rating.
Okay, my review of the Stanley Stella Triber t-shirt has arrived at the moment when I need to wrap things up and give a star rating. The latter is 5 out 5.
But with one caveat. There is no question about quality, feel and finishing with this shirt. However, to my way of thinking, it's first and foremost a fashion item. By which I mean the oversized styling won't find favour with everyone. You have to bear this fact in my mind when choosing to print or embroider it.
That said, it'll be an absolute stunner if ethical quality and on-trend styling are high on your priority list.
Click either of the style names below to visit the relevant product page:
STTU790 Stanley Stella Triber T-Shirt
STTU791 Stanley Stella Triber Splatter T-Shirt
Reviewed by Frankie (freelance reviewer) for Fifth Column.
Fifth Column, t-shirt printing in the UK since 1977. We offer a comprehensive range of garment decoration services and we love what do.
Items related to the Review of the Stanley Stella Triber T-Shirt.