Paiger Dresses in the spotlight.
Right, it's high time we had a another garment review. Over the last the last couple of years, I've done a number of product appraisals for Fifth Column t-shirt printing and clothing customisation. And I have to say, thoroughly enjoyed them all. Tees, sweatshirts and polos. This one involves an item of clothing yet to be covered, a review of the Stanley Stella Paiger polo dress. That said, it shares some of characteristics of the polo shirt in terms of the collar and placket.
Before going much further, it's worth making a point about context. The Stella Paiger dress is primarily designed for rebranding. A fact also true of the other products previously reviewed. As such, the benchmarks by which it's judged are somewhat different to attire intended for a standard retail market. No less demanding. If anything, more so. Obviously, this type of plain apparel (custom clothing to print and embroider) needs to fulfil the normal expectations. Quality, fit, durability and so on. But, it also has to satisfy those of the B2B sector and be suitable for decoration. I'll do my best to assess all of these factors in the following Stanley Stella Paiger dress review.
Styles – Paiger dress review.
For reference, a quick note about the pictures of the Paiger dress I've used in this piece. Those above are Stanley Stella photos. Which is the case almost throughout with the exception of a few taken by myself of a sample dress. Whilst they may be a little short of professional level, I think they show the garment in a different way. And therefore add something. After all, the whole purpose of a review is to really get a flavour of the item under consideration.
By the way, my shots are of a limited edition all over check print of the plain Stella Paiger dress that has very limited availability at time of writing. I've included them and mentioned the fact because I think it illustrates an interesting aspect of Stanley Stella products. To explain, they often seem to do a limited version of a style and I can see how this would appeal to some business customers. In particular, fashion branding where small runs create an air of exclusivity around designs.
Colours in the Paiger.
Earlier, the first block of images showed two of the colours currently available in this dress. Directly above, the other four are illustrated. Now, you might think six colours isn't the biggest colour card in the world. And, that's true to some extent. However, context is everything here. As mentioned, this is essentially a garment made for businesses to embellish with their own designs. As you can imagine, the demand for blank dresses to print and embroider is far less than something t-shirts. Consequently, six colours in a style is pretty decent. So, I'd give the Paiger a tick for choice in this regard. Because the basics are covered and the pink orchid flower and red bring some brightness to proceedings.
Stella Paiger size range.
Nowadays, most major manufacturers of clothing tend to have a good grasp of what sizes are necessary for their market. Especially relevant for an area like plain clothing for customisation where requirements may be quite diverse. Accordingly, hardly any surprise to see a reasonably comprehensive size range here. These women's Paiger polo dresses come in 6 sizes, XS to 2XL. I consider this to be fair in light of the comparatively limited demand for customisable dresses.
Fabric and weight.
Equally important as colour and size, the weight of a garment can be a big factor in its appeal. Interestingly, Stanley Stella have kept the weight of the material for Paiger dresses the same as their Prepster polo shirts. That's to say, 230 G/M² pique cotton. If you're unsure what this means in practical terms, think nicely balanced. By which I mean, enough weight to feel like good quality without being so heavy as to be uncomfortable. Clearly, I'm viewing this a positive. For one thing, it means the dress crosses over seasons. Neither too hefty and hot or too flimsy and cold. Secondly, it strikes me as an ideal item for laying. Something which seems to be both practical in our climate and enduringly fashionable.
Reviewing Stanley Stella Paiger performance.
Okay, that's taken care of the fundamentals with choice. So let's get down to the nitty- gritty. After all, how any clothing performs day to day has a huge bearing on whether you enjoy fetching it out of the wardrobe. Does the Stella Paiger feel good to wear? Is it easy to launder? Perhaps most importantly, can it stand the test of time.
How it fits.
In terms of fit, Stanley Stella have positioned the Paiger in solid middle ground. Please, don't misunderstand me or be put off by that statement. The cut is flattering and feminine. Length is above the knee without being daringly so. Obviously where it sits precisely will vary to some degree depending on the wearer's height and build etc. The manufacturer class this as a medium fitting garment. In my opinion, that's accurate. The Stella Paiger is cut along traditional lines. For example, the medium is around what folk commonly think of a standard women's twelve.
The finish.
Without any doubt, this is a well-made women's dress. The material and stitching are good quality. And the narrow double needle top stitch to the sleeve and bottom hems adds a sense of attention to detail. I also liked small features like the slim side panel and the actual width of the sleeve and bottom hems. To explain, very little irritates me more than skimping on hem widths. In truth, there's nowhere on the manufacture of this dress where you get the impression of corners being cut.
In the wash.
These days, the majority of us prefer clothes that are easily laundered. Quite rightly so. That's to say, we're all busy. Even if we're not, there are better things to occupy ourselves with than mithering about laundry. Consequently, how an article of clothing washes is a big deal. Well, there's good news on that front. The Stanley Stella Paiger polo dress washes and irons perfectly well. You can throw it into the machine with confidence. For once, I've followed the instructions and wash at 30°. To be honest, given Stanley Stella's reputation, I didn't expect washing to be an issue. Before moving on, one other point to note. By now, the dress has been worn and washed multiple times and remains in excellent condition.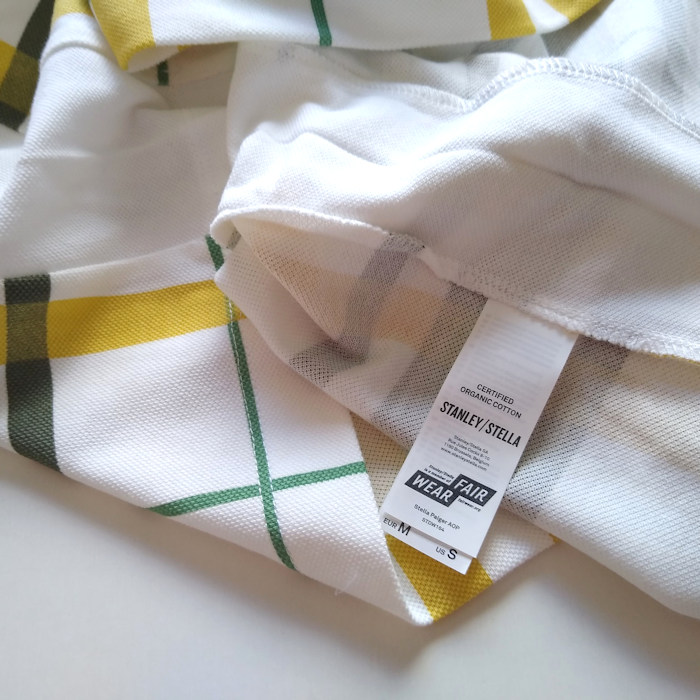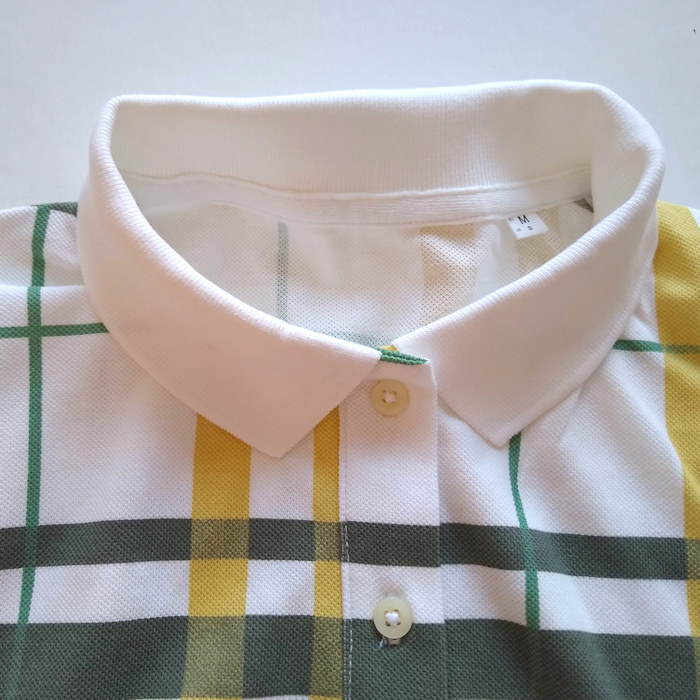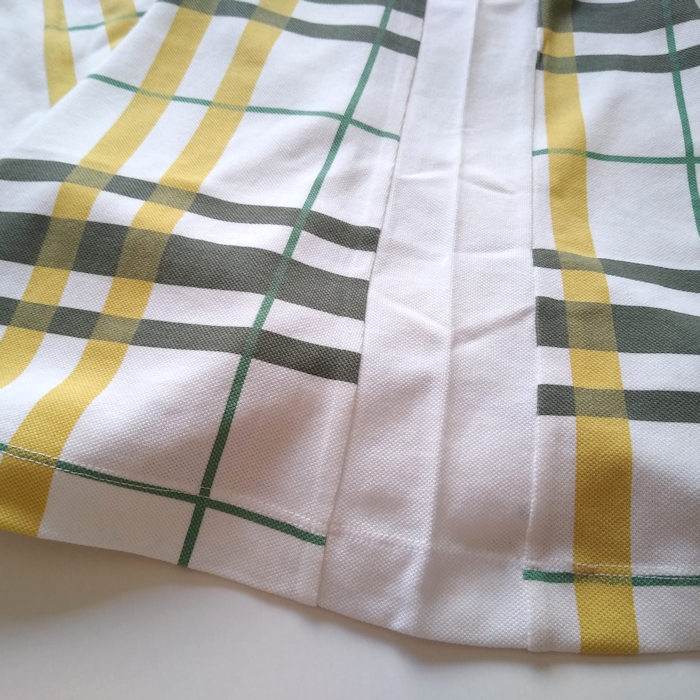 Organic cotton.
Although the ethical aspect of the Paiger dress may not interest everyone, I feel obliged to mention it. Not least because Stanley Stella are big players in this area. In many ways, it defines their brand of blank clothing. That is, sustainable production methods and eco-friendly fabrics. Specifically in this case, the Paiger polo dress is made entirely from organic cotton. Which is certified by proper international standards.
Whilst I'm hardly any great campaigner on the issue, it is something that I class as a plus point for a product. Given the choice, I favour clothes made from organic cotton ahead of those created using the 'regular' stuff. Put bluntly, environmental impact matters. Come on, who wants to damage the world when there's an alternative? Plus, I think organic actually has a nicer feel to it.
Customising Stanley Stella Paiger dresses.
As usual, I've deferred to the experts at Fifth Column with regard to customisation. More good news. The Stella Paiger dress is an ideal surface for some premium embroidery or high quality screen print.
Rating – Review Stanley Stella Paiger Polo Dress.
If you've read this far, you won't be surprised to learn that I give the Stella Paiger polo dress five well deserved stars. There's nothing to mark down – choice, style, material and fit are all good. And it looks great on! In terms of B2B customers, I imagine it's an attractive option for embroidering and printing company logos. Apart from being an item you'll enjoy wearing, what strikes me about is this women's Paiger dress is versatility. The polo inspired styling gives it a unique quality. Neither the fully casual nonchalance of a sweatshirt dress or that sort of official starchiness you get with a formal garment. Yet a touch of both. In an age when ties are even being dropped in boardrooms, it's a pretty good balance for a lot of businesses.
There we go, just about done for this review. To find information on the dress, click on the style name below to go to the product page.
Stanley Stella Paiger Polo Dress
There are several other Stanley Stella reviews that may be of interest. These include a Creator t-shirt review, Prepster polo review , and Changer sweatshirt review.
Reviewed by Frankie (freelance reviewer) for Fifth Column.