There might be snow in the air and sub-zero temperatures, but the fashion world is already gearing up for summer 2021. And a good thing too! Grey skies and grim news have made this January tougher than usual. Just when we all need a little lift, something to remind us that happier times and freer days are on the horizon, the Stanley Stella Spring Summer 2021 Collection has landed.
Here at Fifth Column, like a lot of folk involved in ethical printing and personalisation, we've grown to really look forward to new arrivals from our friends at Stanley Stella. Their seasonal ranges tend to be a treat and this latest offering is no exception. There are a number of fabulous new styles and some scintillating new colours. So here we go, a flavour of the Stanley Stella Spring Summer 2021 Collection. If you're into blank clothing, especially sustainably sourced blank clothing, it's well worth a look.
Inspiration and Look for Stanley Stella SS 2021.
As far as inspiration goes, think freedom and nature with some Nineties vibe thrown in for good measure. This Stanley Stella Spring Summer 2021 Collection features a lot of unisex styles and the fit of the garments leans toward oversized and easy. When it comes to look, we're into free spirits and summer fun. The feel is tie and dye, sun shining through clouds and surf crashing in the background, washed and worn and happy with life being lived. Colour is massively important and it's painted bold and beautiful with vibrant yet understated seasonal notes. Natural shades such as lilac and mushroom with incredibly creative dyeing techniques and unpredictable prints.
Stanley Stella Spring Summer 2021 New Styles.
The new styles in the Stanley Stella Spring Summer 2021 Collection are a big part of the story and include t-shirts, sweatshirts, hoodies and more besides. As mentioned, relaxed fit is a theme that runs through the range. Nice to see from a fashion perspective and also worth noting from the custom clothing angle. We've picked out some examples below.
Spring Summer 2021 T-Shirts.
A fab new women's tee, the Stella Collider Vintage t-shirt is a garment-dyed beauty. Rolled sleeve and oversized fit, this one oozes easy chic. Currently available in three colours and XS to XXL sizes.
Raw edge is back in the blank clothing mix with their Stanley Stella Imaginer t-shirt. A unisex shirt that should prove popular with customers. It's a medium fit and made from organic cotton, as you would expect with Stanley Stella.
Already an established favourite, the Fuser gets a different look with the new Fuser Dip Dye t-shirt. Dip Dye Mushroom and Barley is a stunning blend of shades, one which is understandably repeated on other garments in the collection.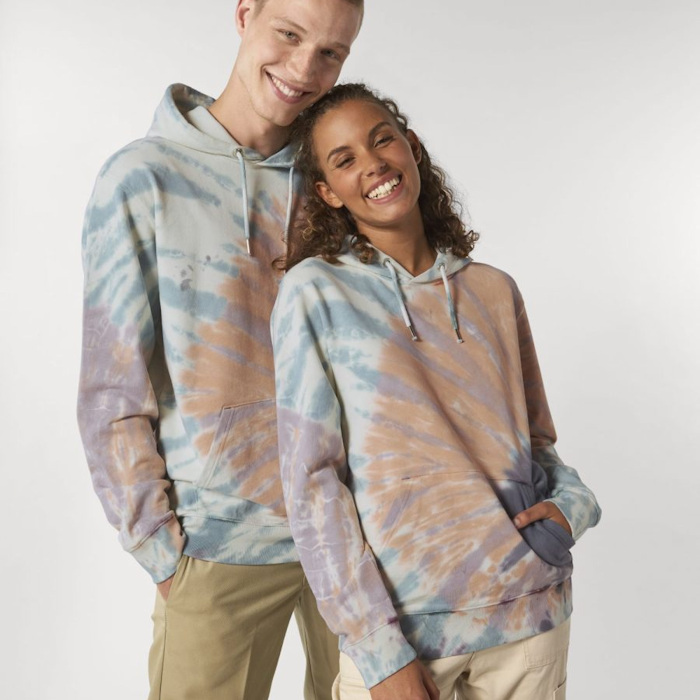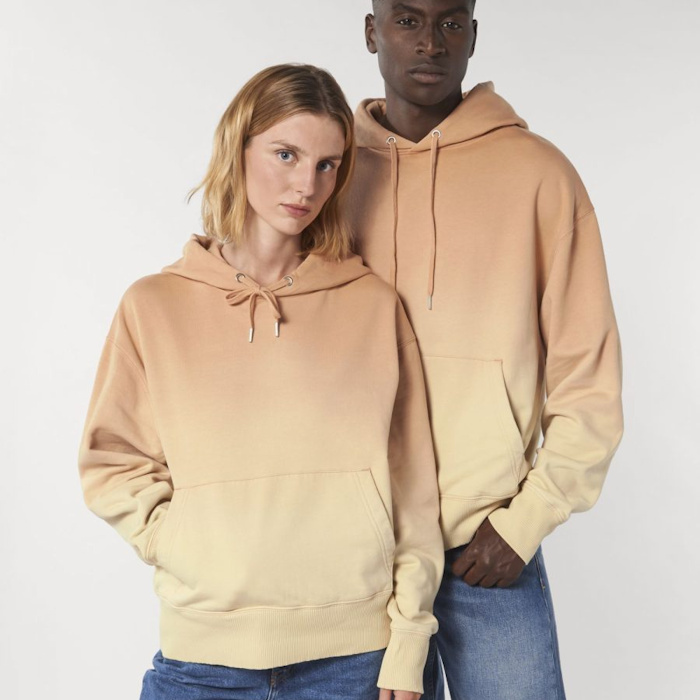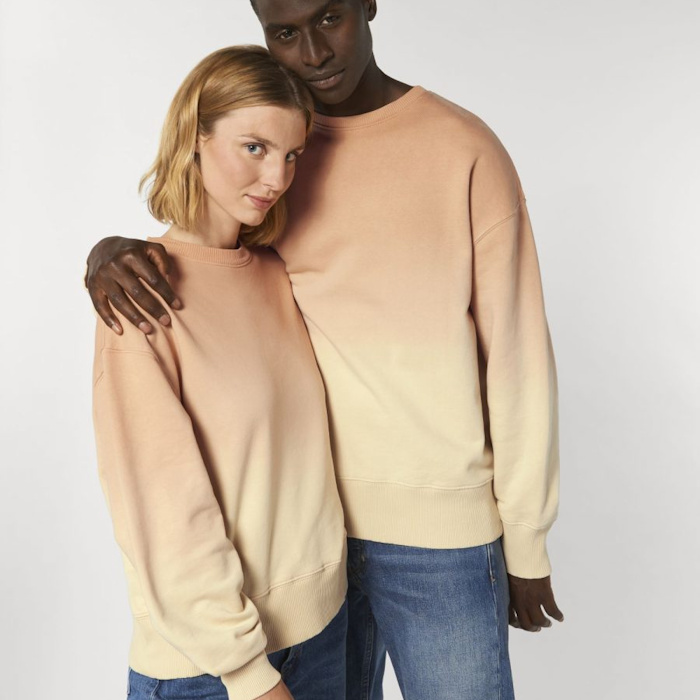 Hoodies and Sweatshirts.
Stanley Stella make a very strong statement with their hoodies and sweatshirts for Spring Summer 2021. Once again, relaxed shapes and the welcome versatility of unisex fit are prominent in stylistic terms. 'Total look' is also a notable feature of the overall aesthetic, coordinated sweat tops and jogging pants that combine with striking effect.
Take the unisex Slammer hoodie for example. Cut big and casual, it's got comfortable written all over it, as well as crying out for some printer's ink or expert embroidery! A genuinely feel-fresh piece of apparel whilst still having obvious echoes of the past. Similar story with the Radder sweatshirt, it's clearly new but somehow redolent of classics. Added to these you have glorious vintage, tie dye, and dip dye variants which we just know are going to fly off the shelves. Put bluntly, they're a rebranding dream!
SS 2021 Pants, Shorts and Bags.
Spring Summer 2021 includes more than t-shirts, hoodies and sweatshirts. There are some great joggers, shorts, dresses and even a new tote bag. Mover joggers get new colours and a new variation with Stanley Stella Mover Dip Dye, a delicious unisex dip-dyed jogger. Can you imagine how good these are going to look paired with a matching sweat top and both embellished with your logo or artwork?
Trainer unisex jogger shorts are another new style. Whatever your market, getting active or kicking back, these should be on your radar. Made from organic cotton and recycled polyester, they're retail quality and available in some very cool colours.
Let's not miss out the dresses. Stella Twister and Stella Twister Dip Dye are loose and lovely oversized t-shirt dresses. Fashionable and feminine, they catch the current mood without trying too hard. That could be a note for the whole collection – brilliant and not too bothered about the fact.
And get a load of the Stanley Stella RE-Tote bag! But be warned and get in quick. Don't delay on this one because it's limited edition. Recycled cotton and polyester, a tote bag created in-house by the manufacturer using organic cutting waste from their black t-shirts. We love that!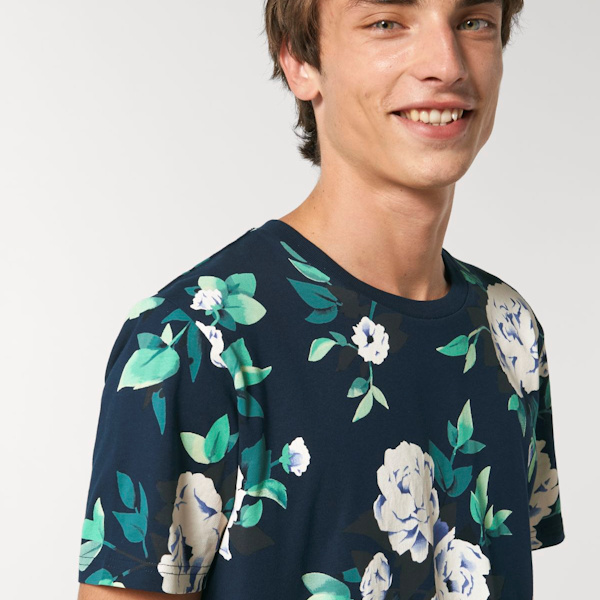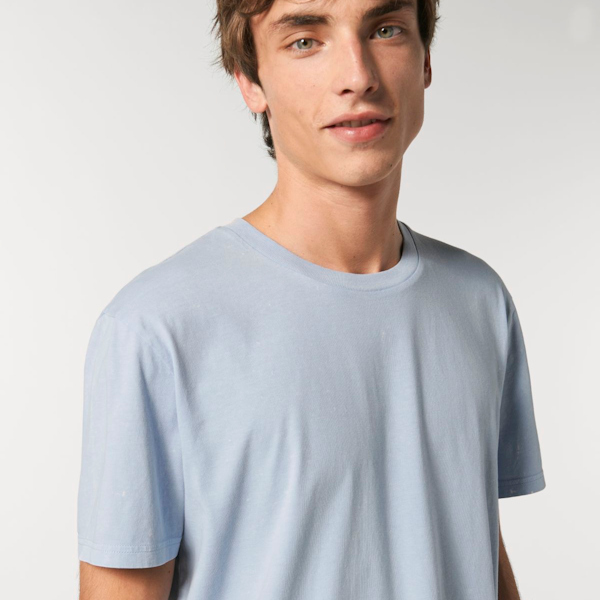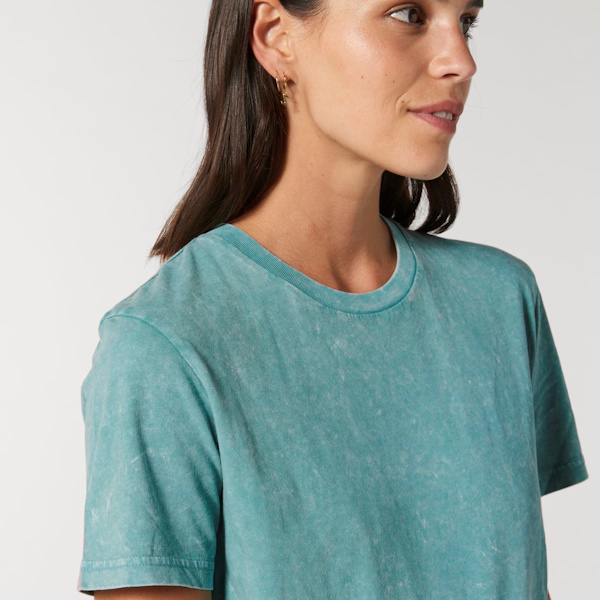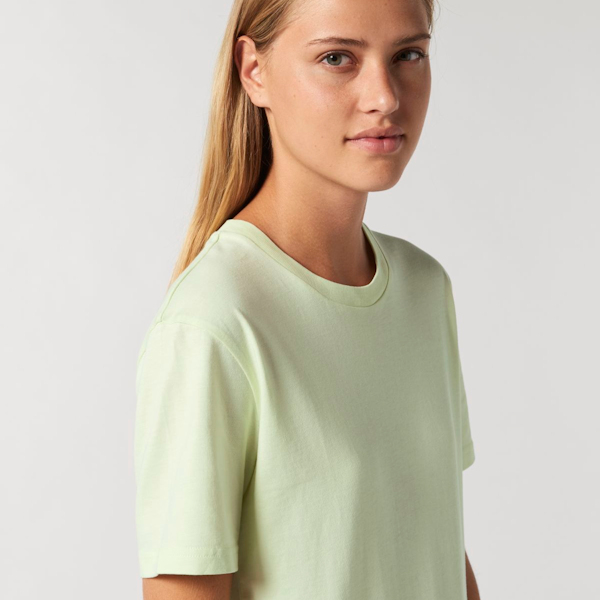 Stanley Stella Spring Summer 2021 Colours.
You're going to love the colour palette used in the Stanley Stella Spring Summer 2021 Collection. Variety and depth of colour has long been one of Stanley Stella's unique selling points and they're still coming up with the goods. As garment decorators, being able to offer a selection of the latest on-trend colours to customers is a huge advantage. Standard shades don't get old, but having more means we can meet demand and exceed expectations. Something that should be a biggie for any business.
The influences behind the SS21 collection, the freedom of summer and the reassuring warmth of nature, are effortlessly captured by these shades. It's a delightful blend of soft earthier hues and sharper floral tones which, when put together, are almost irresistible.
One last thing that we ought to mention. As always with Stanley Stella, you can rely on their ethical credentials. Accredited by numerous highly respected global sustainability and ecological standards, they're the only B2B bulk clothing supplier which made the most sustainable brands in the world list. That's no mean feat and one that we appreciate here at Fifth Column. It's one of the reasons we're so pleased to have earned a place amongst their small number of official UK partners.
Fifth Column have been printing t-shirts in the UK since 1977 – we offer an extensive range of garment customisation Services – and love what we do. Contact Us for more information or get a Quote  online.
Items related to Stanley Stella Spring Summer 2021 Collection.