The festivities fade with alarming speed once you get a little deeper into January. And wow, can it feel cold. Here at Fifth Column, we're lucky to have the heat of busy printing carousels to keep us warm, but we still look forward to bright things on the horizon. The Stanley Stella Spring Summer launch is one of them, a glimpse into what Stanley Stella have come up with for warmer days. This is our take on what SS22 offers, beyond their existing ranges, for the screen printing and embroidery sector in 2022.
There is a plenty happening in this launch, as is usually the case with Stanley Stella when they unveil new lines. They place great emphasis on quality allied to sustainability and have a distinct knack of keeping their finger on fashion and seasonal trends. As a consequence, their collections tend to command your attention and spring some pleasant surprises into the bargain. We're pleased to say that SS22 is no exception.
Standouts in Stanley Stella Spring Summer 2022.
Two main things stand out in SS22. The first is probably what you would expect, a substantial scattering (considering the huge choice they offer) of new styles and a number of style uplifts for existing items. The latter, adding extra depth to current products, is a regular feature of their updates. However, the second, a completely new collection of outerwear, is perhaps a little more unexpected. That said, it makes a lot of sense in that outerwear is an essential, especially here in the UK, and therefore ideal for printing and embroidery. Basically, there's a big market for this type of product and Stanley Stella have upped their game to ensure what they offer competes with the best that's out there.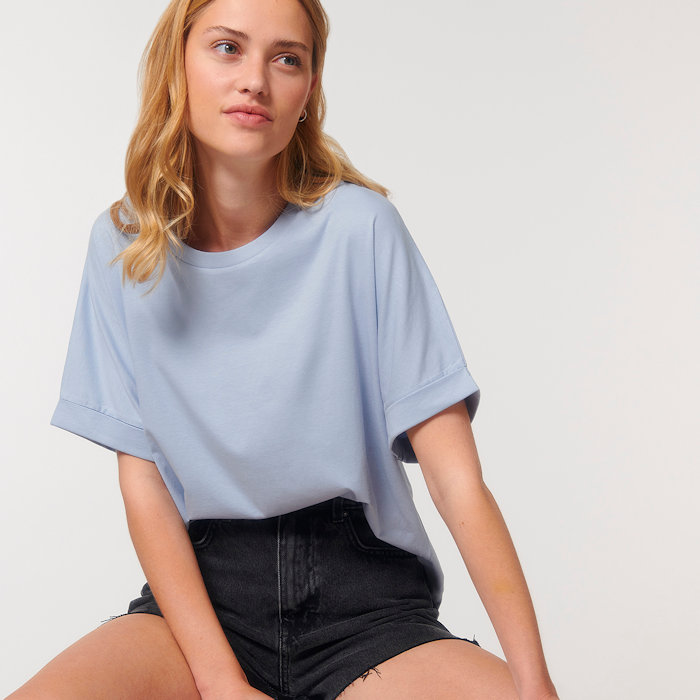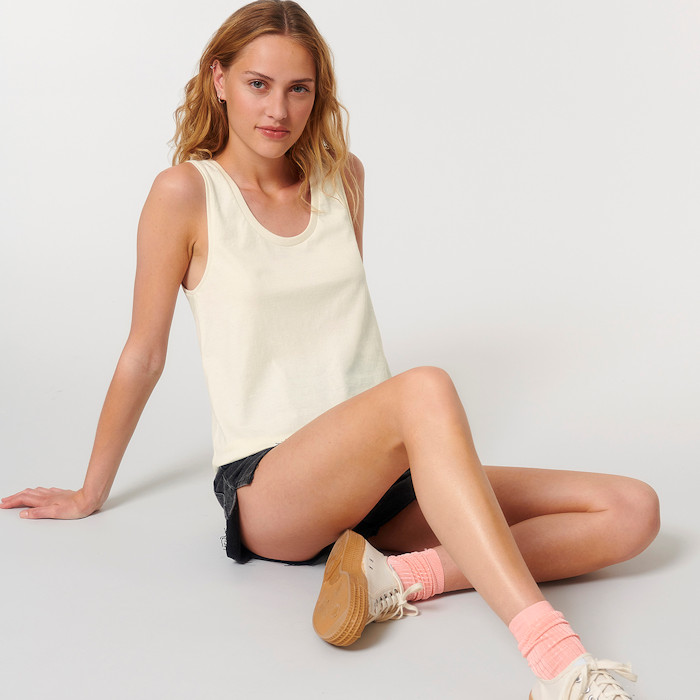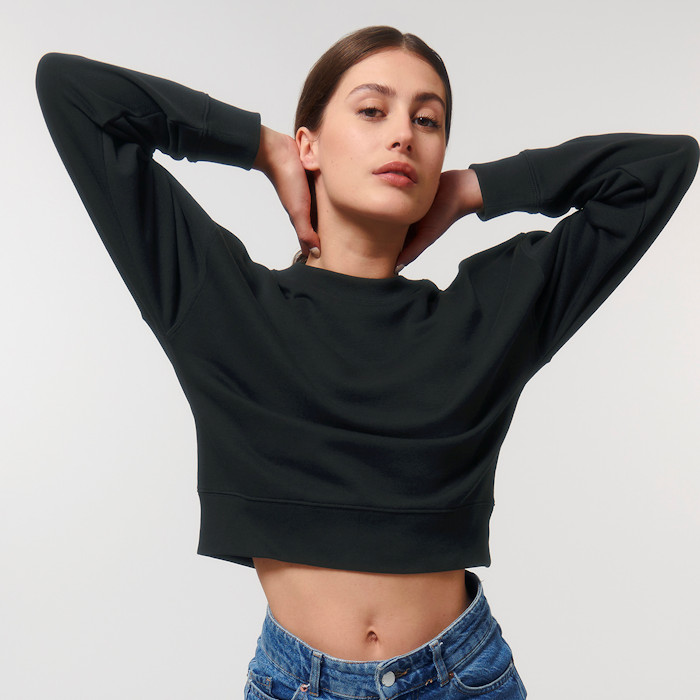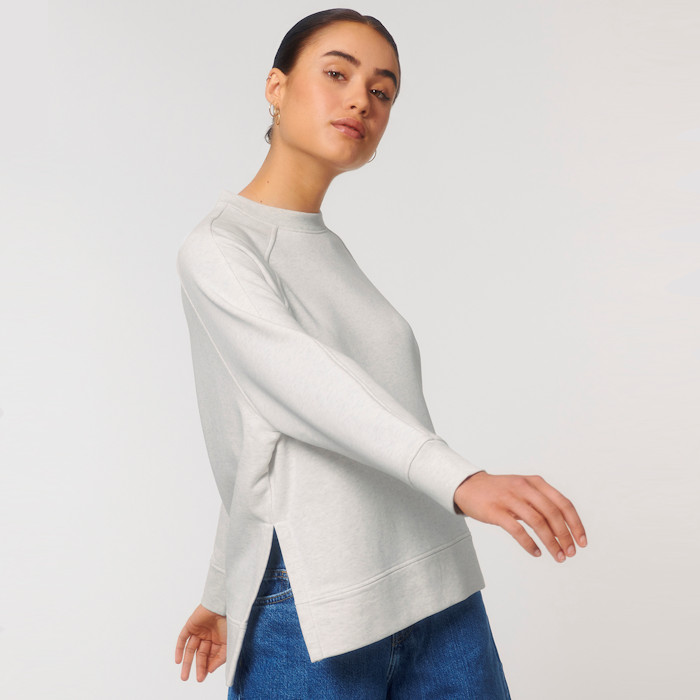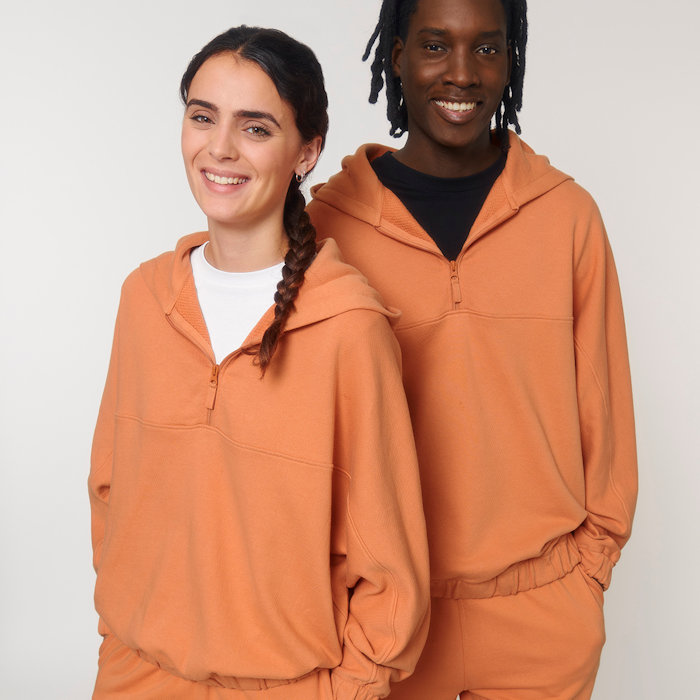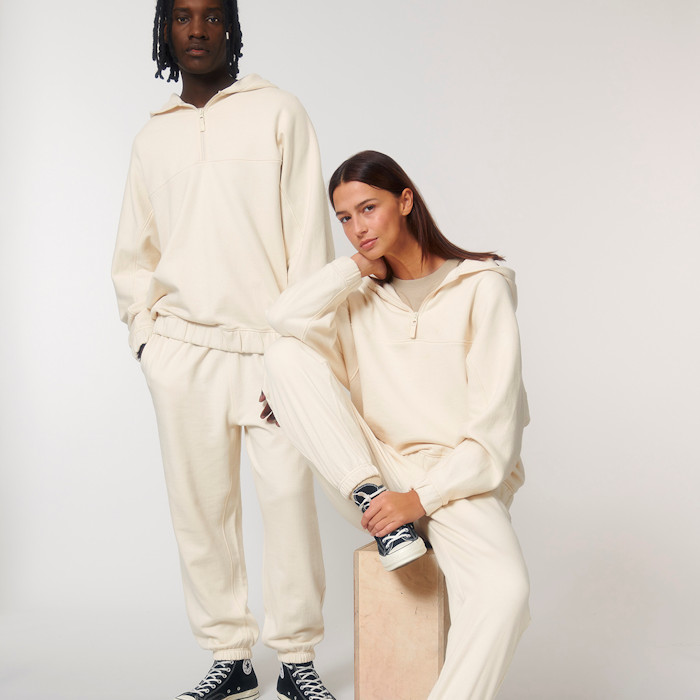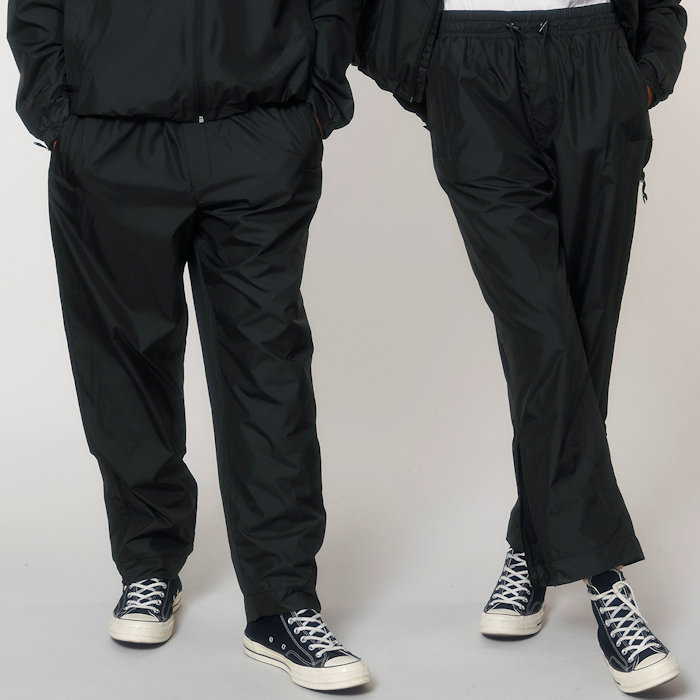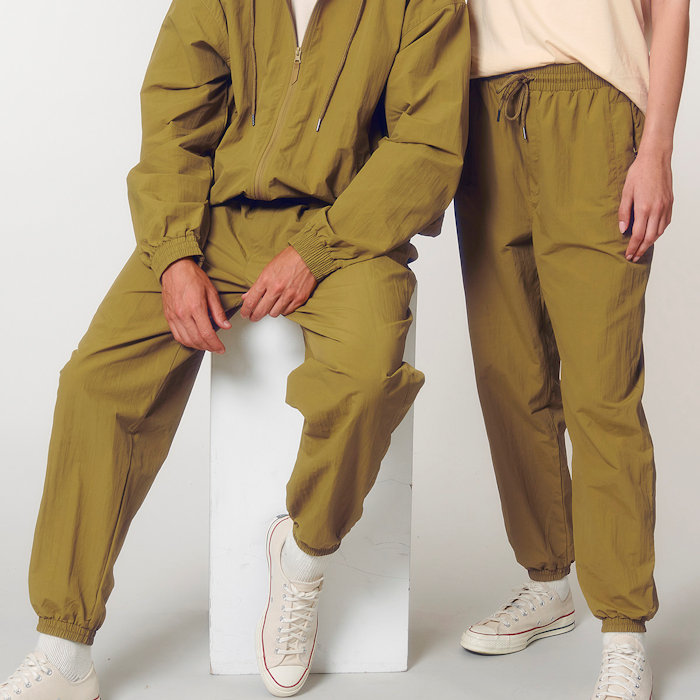 New for Spring Summer 2022.
We'll start with tees and tops, an area where Stanley Stella already excel. In SS22, they've added a couple of interesting women's fashion pieces. The Stella Collider t-shirt is lovely, flowing, oversized and retro infused. And with the medium fit Stella Minter vest/tank top they've hit that sweet spot between feminine yet practical. The Stella Cropster terry sweatshirt will have anyone who loves a cropped sweat clapping their hands in approval. And those who adore an oversized casual sweatshirt with chic side slits will be itching to get hold of the Stella Wilder sweatshirt. If you're partial to a hoodie with a twist, the unisex Globetrotter Wave Terry hooded top is well worth checking out. A quarter zip at the neck adds versatility and the elastic hem and cuffs are a nice touch.
Staying with the unisex fitting, there are several new bottoms in Stanley Stella Spring Summer 2022, Decker joggers are a relaxed, lightweight option, whilst Cycler pants are multi-functional and perfect to pair up with some of the jackets we'll see shortly. By the way, there is also a limited edition Decker Wave Terry version of Decker pants. In addition to these, Tracker trousers offer yet another fashion possibility with a design that feels urban and effortless.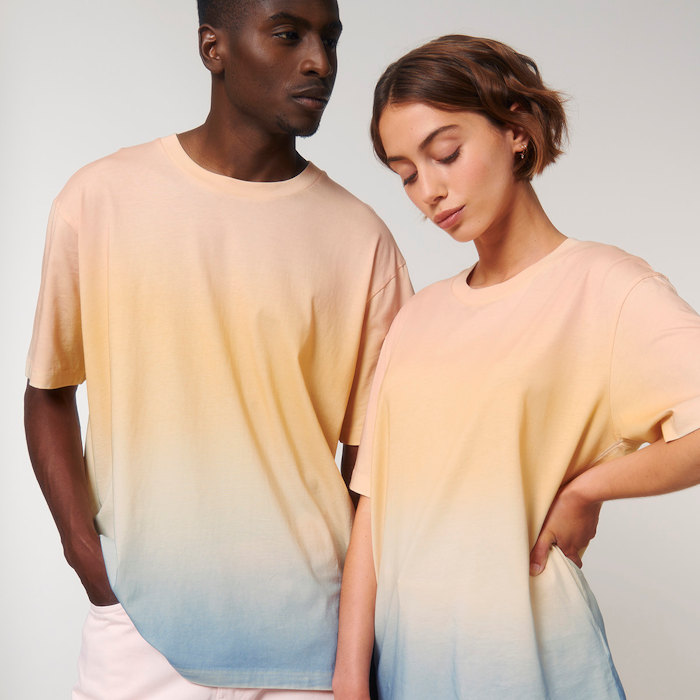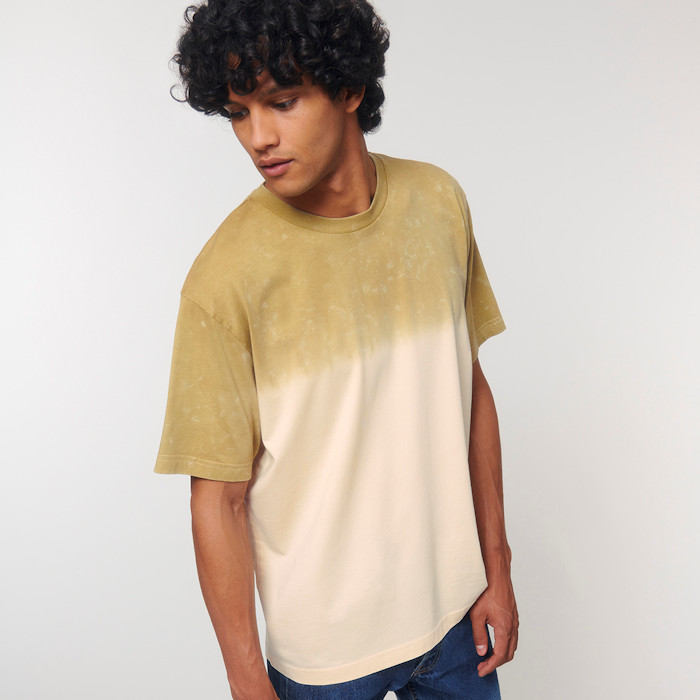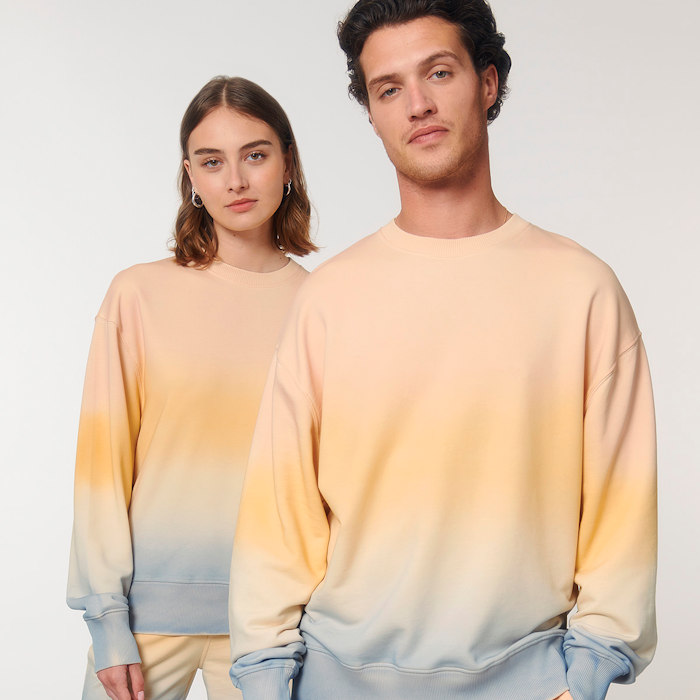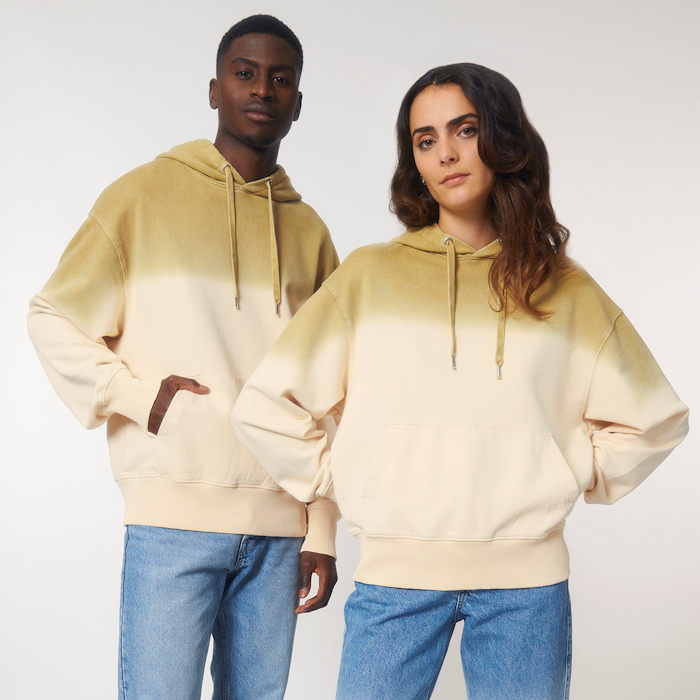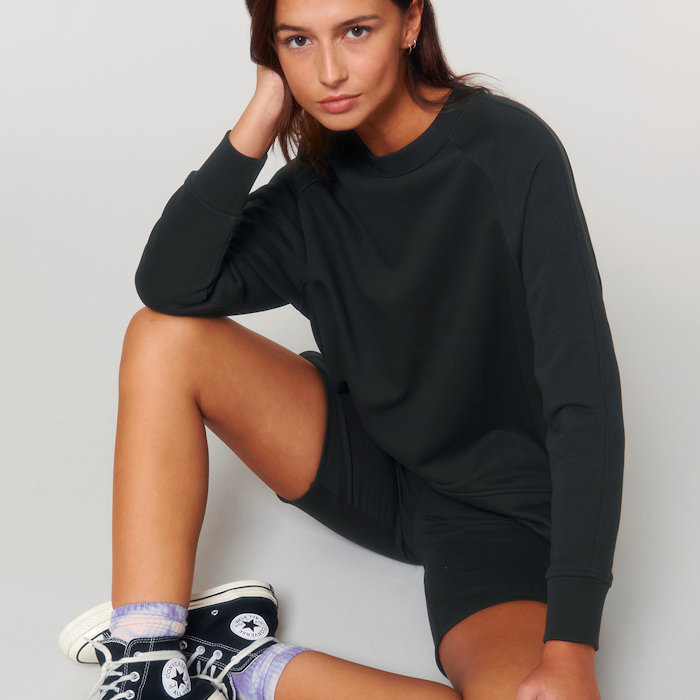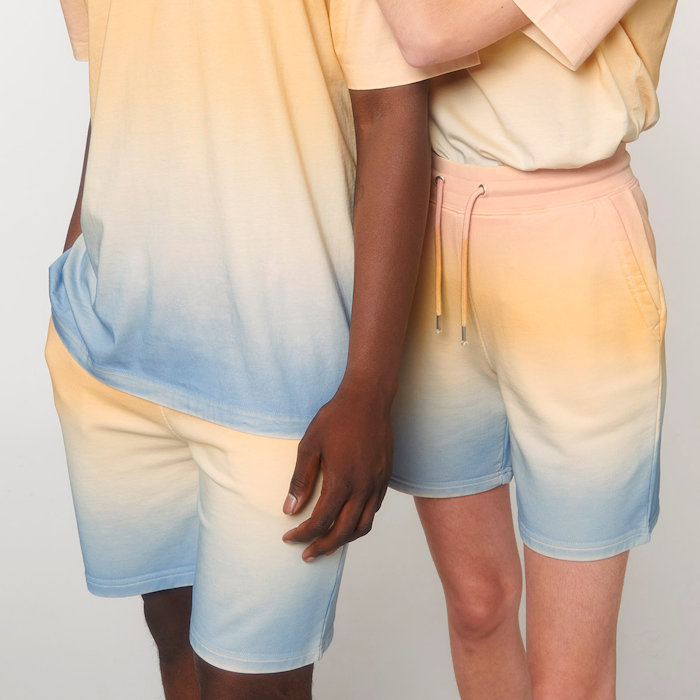 Limited Editions.
SS22 features a number of limited edition items. On the t-shirt front we have two visually striking variations of the Fuser. This stunning Ombre and Aged Dip Dye colourway is also applied to other products. For instance, the Radder Ombre sweatshirt, Trainer Ombre shorts and Slammer Aged Dip Dyed hoodie all echo the theme. And who can fail to love Stella Ryder shorts? The latter are organic cotton, biker style which we can imagine easily crossing over to casual and work wear.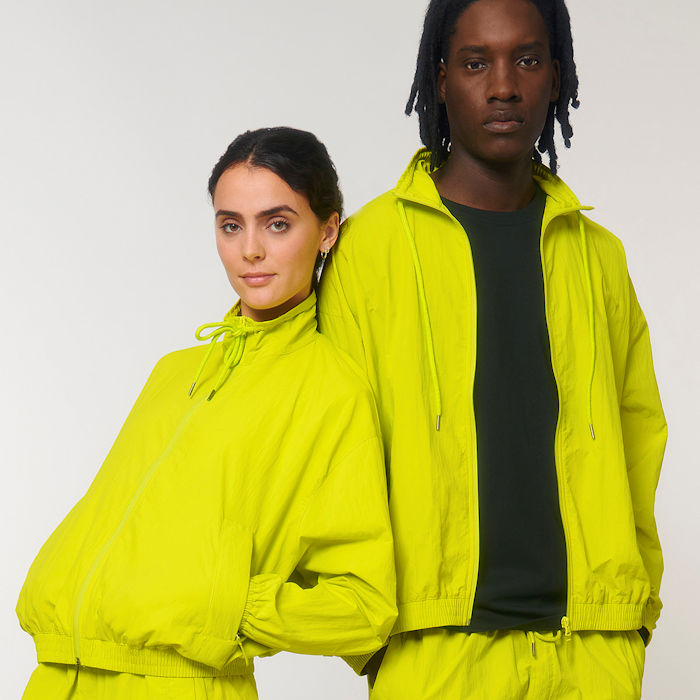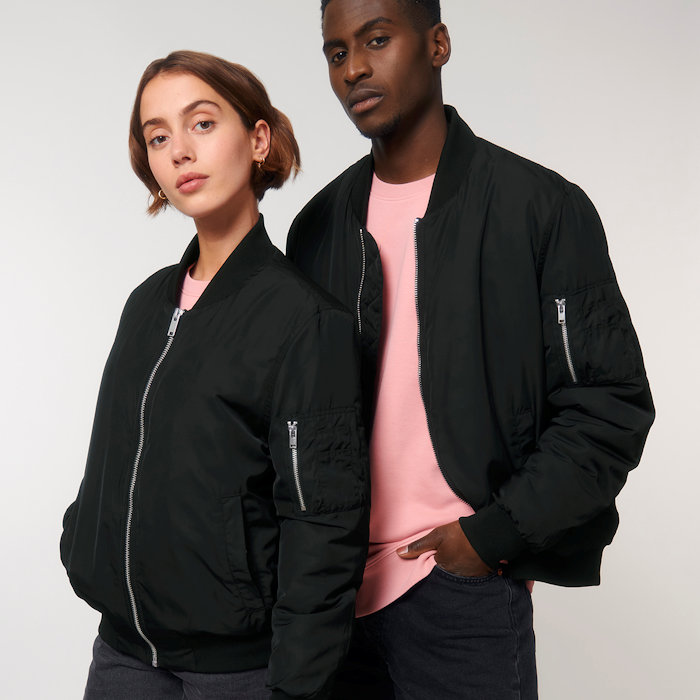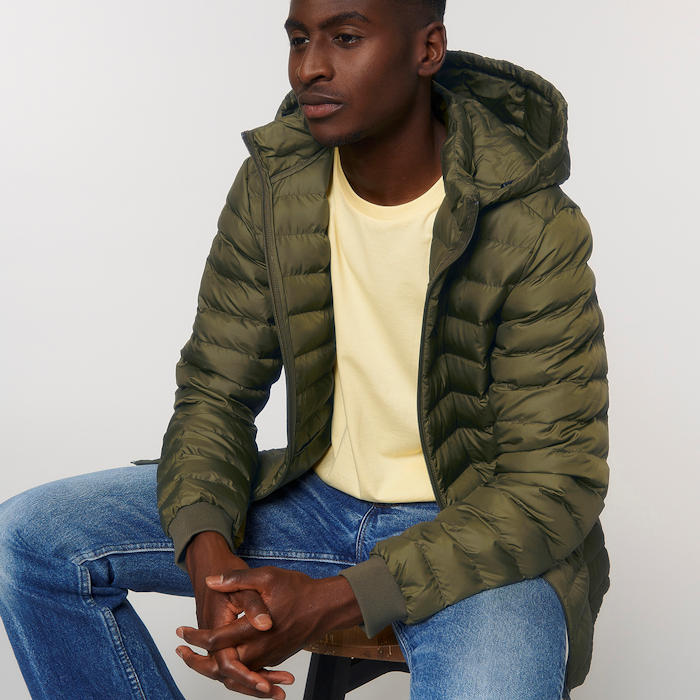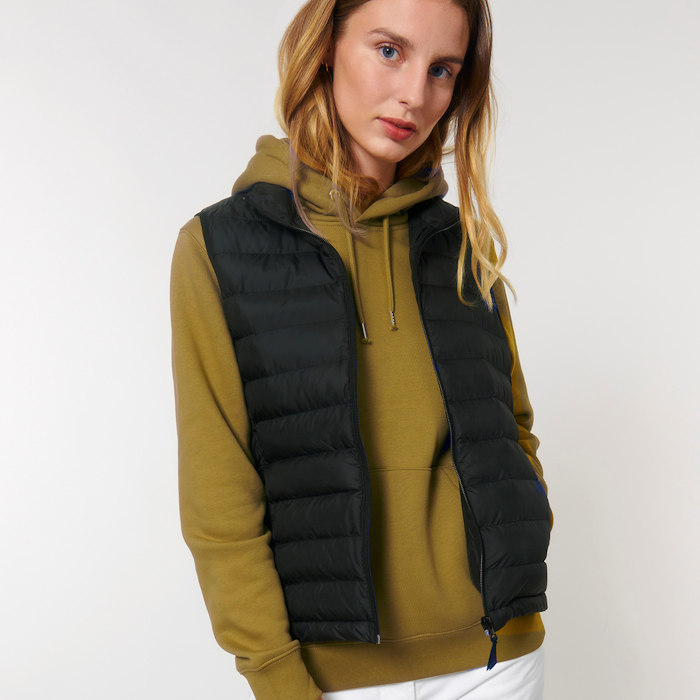 Outerwear Jackets.
As previously mentioned, Stanley Stella Spring Summer 2022 sees the introduction of a sparkling selection of outerwear. It feels like Stanley Stella have really focused hard on this part of the catalogue and raised the level when it comes to jackets. Commuter is unisex, suitable for a wide variety of situations, and designed for decoration with access at the hem and left chest. It's not shown here, but there is also an all over print version (similar to the Speeder AOP pictured). Speeder is an over the head style and has a sporty, streetwear meets outdoor activity vibe. Coacher, which is also available in a camouflage all over print option, comes across as indie sophistication teamed up with utlitarian no-nonsense. The Tracker jacket is very much on the mark for current fashion and has matching trousers if you want a full urban look. We go slightly more classic with Stanley Stella's Bomber jacket, an enduring design given a contemporary upgrade.
Padded.
This collection includes two padded pieces of outerwear, both of which are available in men's and women's fitting. The Voyager jacket offers warmth and street chic whilst the Climber is the latest sleeveless jacket/bodywarmer from Stanley Stella. It's fully padded yet lightweight and should prove popular with multiple sectors.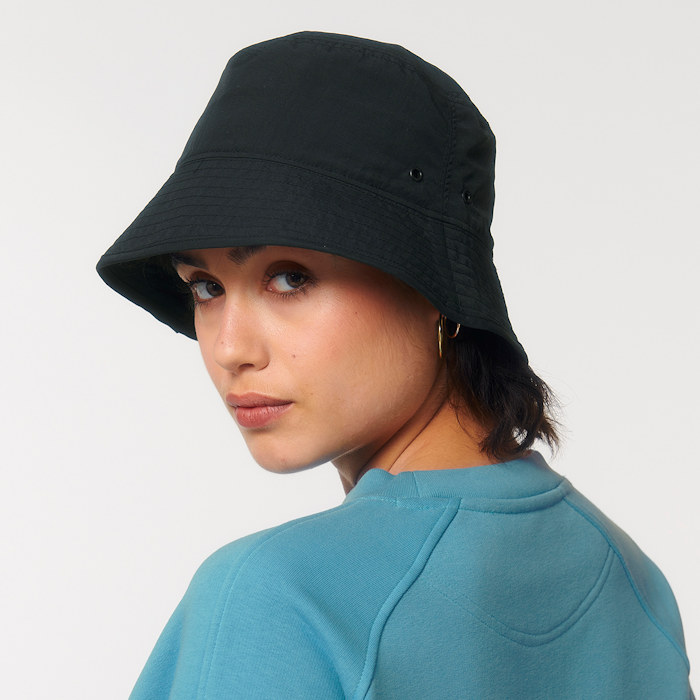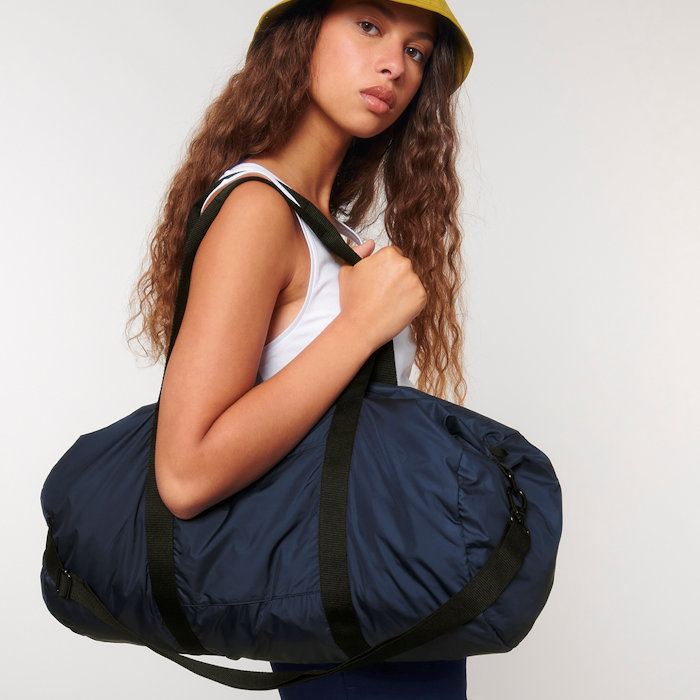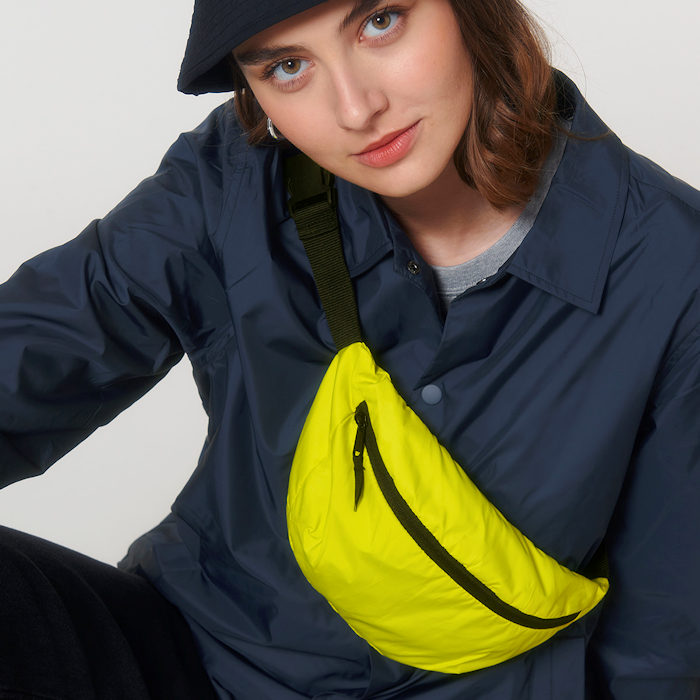 New Accessories.
Stanley Stella have increased their range of accessories in SS22. There are three new bucket hats. We've shown the Taslan above. In addition, there is also a core bucket hat and a lightweight version. Other than headwear, the choice in accessories has been broadened with new hip and duffel bags. Again, there are three options in each, some of which are limited editions.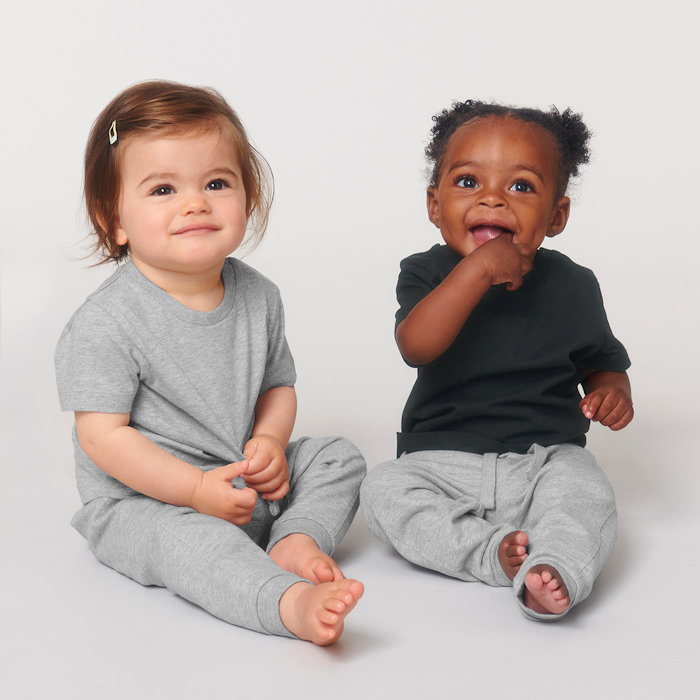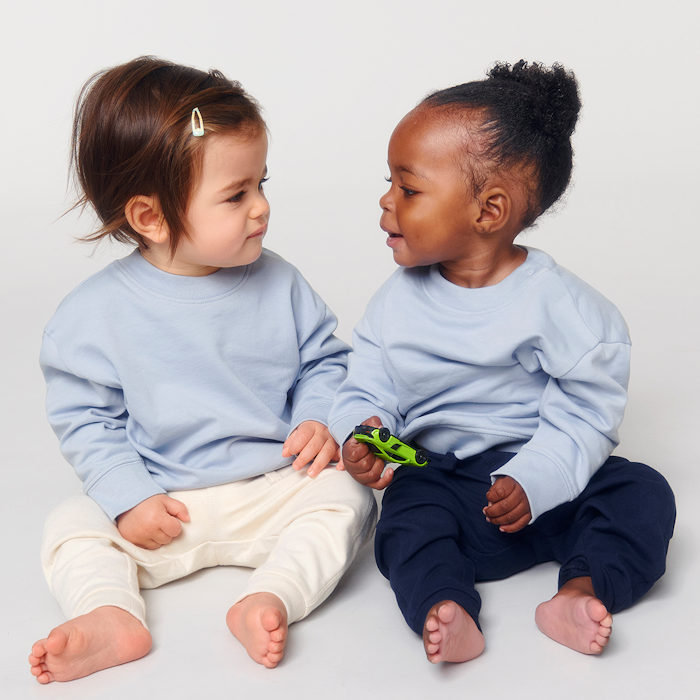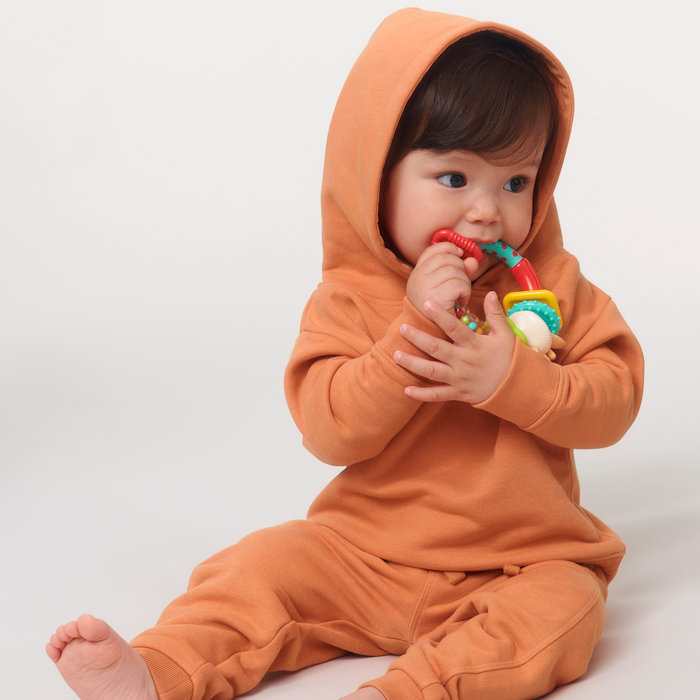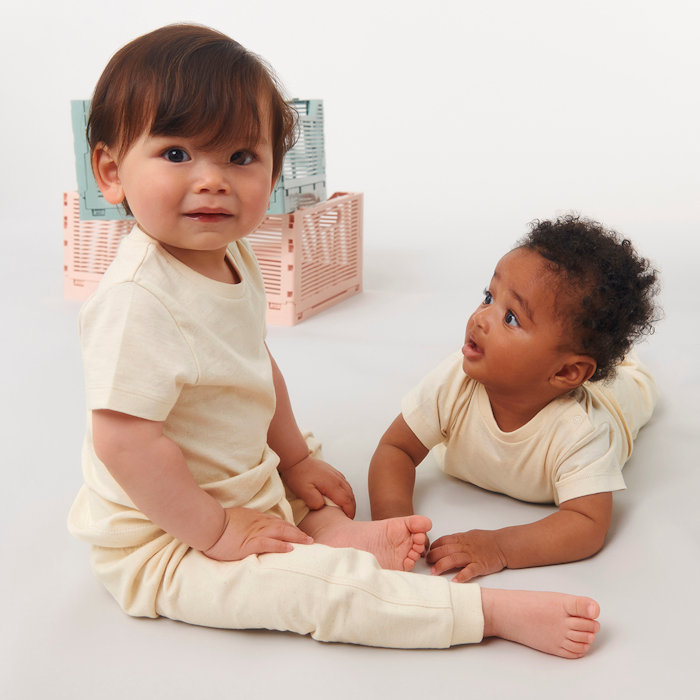 Iconic Babywear in Stanley Stella Spring Summer 2022.
Stanley Stella's kids iconic range gets some delightful new clothing for babies. Firstly, we have to mention the Baby Creator t-shirt, the latest variant of the now near legendary Creator tee. In short, it's too cute for words. In a similar vein, there is a Baby Changer sweatshirt, a Baby Cruiser hoodie and Baby Shaker jog pants. Basically, a complete outfit for the little ones. These items fill a gap in Stanley Stella's overall catalogue and will have real appeal for those who custom brand merchandise for the baby market.
SS22 Colour Palette and Fabrics.
The colour palette used in SS22 is refreshing, a balance of brightness and subtler tones which feels perfectly suited to a spring/summer launch. As in the past, there are some innovative and delicious mixes here. They rely on the inventive dying techniques and fabrics which Stanley Stella always seem to conjure for new ranges. For example, the rainbow ombre and aged dip dye shades are achieved by special methods of dying. Whereas the wavy, textured surface on Wave Terry garments is accomplished by a specialised knitting process. Bring all of this together and the result is a range of apparel which is elevated above ordinary simply by the colour card and materials. That's before you get to the attractive styling and high quality. Incidentally, the colours above apply to new styles with some also featuring in the new range of outerwear garments.
In Conclusion.
All things considered, the Stanley Stella Spring Summer 2022 collection is another triumph. These guys are genuinely good at what they do, a fact which is regularly demonstrated by their seasonal launches. It's clear that a huge amount of effort and thought has gone into SS22. By which, we mean they are committed to premium quality, skilfully combine mainstream appeal and contemporary fashion, and do it all with an ethical and responsible approach. The ethos that underpins their products has sustainability at its heart and that's one of reasons Stanley Stella are an outstanding B2B bulk clothing supplier. It's also one of the reasons that Fifth Column are proud to be one of their limited number of official UK dealers.
To round off, check out this SS22 video.
Items related to Stanley Stella Spring Summer 2022